April 3, 2013 | Filed Under Chuck Busch, Conservatives, Entertainment, Ethics, Fox News, Glenn Beck, GOP, Journalism, Media, Media Bias, Republicans, Rush Limbaugh, Talk Radio, TV | Comments Off on
---
Glenn Beck Goes 'Wobbly'

-By Chuck Busch

To: Mr. Larry Klayman of Freedom Watch

I just received your recent newsletter in which you related what Glenn Beck said on his Internet Broadcast program concerning inane ideas about "surrender." I was not aware of his statement as I make it a point to not tune into Glenn on the Internet or on his radio program. Initially, I thought he was doing a service by bringing out controversial information on little discussed subjects that all American's should be aware of. However after a time, he lost believability, was let go by FOX News and his radio program dissolved into silliness. This is not a time for frivolity and jokes. It is time for a serious effort to educate a misguided populace.

I have been concerned for some time that the host of conservative commentators on radio and TV, with the exception of Rush Limbaugh, have become entirely too harsh and strident contributing to the characterization that conservatives are uncaring and cold-hearted. Anger (and we all have reason to be angry) is too strong of an emotion to sustain over the long term and it is Obama's strategy to wear us out. Rather than engaging in a personal shouting match with our opponents, we need to meet the challenges to our liberties with a steadfastness, confidence and calmness that will convince people of the soundness of our arguments. The face of conservatism and the Republican Party must attract more listeners and entreat them to consider objectively the major issues of the day. Instead of people reacting to the personality of the talk show host, let them focus on the substance of the debate. (See article on Fox News programming by Michael Reagan titled "New Song, New Singers" March 21, 2013.)

I have already mentioned Rush Limbaugh who founded conservative talk radio and is, without doubt, the master of the trade. He has an uncanny way of being critical of the administration but doing it in a good-natured humorous manner. Ridicule can be a good weapon against these uptight liberals but only if used in a skillful way. Rush, in this post-election cycle, has also made it his objective to connect with the "low information voter" which is a brilliant strategy. The people must be convinced that the supposed benefits of a generous federal welfare state are not only corrupting, but are unsustainable and are not worth the lost of liberties that they entail. They must also learn that this administration does not have their best long-term interests are heart and it's social and economic policies have produced this ongoing distress in all aspects of American life.

There is one individual on FOX News that is also an exception and that is Mike Huckabee. Mike is a gentle, gregarious, gracious, friendly person who is not ashamed of his fundamentalist Christian beliefs. He was earlier in life a Baptist minister and a presidential candidate. He declined to run again in the last election because he believed "God told him not to." I think that it is because of his relationship with Jesus, the risen Christ and person of the divine Trinity, that Hike Huckabee has such charm. I think we could all benefit personally and in our outreach if we tried more to "be like Mike."

I have referenced Mike Huckabee's Christian faith for a reason. You were polite enough in your article "Glenn Beck is No Patrick Henry" not to mention that Glenn is a Mormon. A person's religious orientation is critical in determining his worldview and how he deals with adversity. Glenn talks about losing "faith" in our government and societal institutions. Whether Glenn realizes it or not, but that is equivalent to saying that he has lost faith in mankind, because men and women run those organizations. This should be no surprise to Glenn or anyone that we are all flawed human beings. Ronald Reagan once said, "There is no question that we have failed to live up to the dreams of the founding fathers many times and in many places. But all in all, the one thing we must be on guard against is thinking that because of this, the system has failed. The system has not failed. Some human beings have failed the system."

The bible, correctly interpreted, establishes that man has a fallen nature and except for Christ's intervention is entirely corruptible. Many wise men and women over the centuries have said that unchecked power can corrupt those who hold it. If you believe that mankind is inherently good, you are bound to be disappointed. And if you look to government to provide all your needs you will ultimately be betrayed and enslaved. There is a PAC group which advertises the slogan, "Government is not God" which I think is the most profound non-partisan political statement of the day.

What God gave this country in its beginnings were Godly leaders who used Godly wisdom to establish a government system of checks and balances that actually counteracts the weakness of man. Our government and society is in its current degraded state because we as a people have generally abandoned those guiding principles in both our public and private lives. One of Mitt Romney's campaign slogans was "Believe in America" which I think was entirely appropriate. I interpret this to mean that as a people we should believe in the foundational principles of individual liberty enshrined in the Declaration of Independence and the US Constitution by which all political leaders should abide according to their oath.

Glenn Beck's suggestion of capitulation or passivity is abhorrent to me. Perhaps he has become overwhelmed by the pervasiveness of corruption in the country. My Christian experience and understanding of the bible is that we are never to give up on what God intended for our lives and the blessings He would bestowed on this country. God has given us a higher standard of morality and freedom to live by which we are not to so easily forsake. I could quote a hundred brave men and women who have preceded us and preserved for us this heritage in our generation who endured and fought much greater adversity then we are facing today.

I appreciate your printing the much longer version of Patrick Henry's "Give me liberty…" address to the Continental Congress on March 23,1775, particularly the section that reads: "we have pledged ourselves to never abandon until the glorious object of our contest should be ordained – we must fight!" Edmund Burke wrote, "The only thing necessary for the triumph of evil is for good men to do nothing." Ronald Reagan observed, "It is freedom itself that still hangs in the balance, and freedom is never more than one generation from extinction."

Glenn's statements are completely uninspiring. His simplistic religious sentiments concerning focusing on faith in things God created and not in things man created (?) are scripturally and practically irrelevant. All things are under the Lordship of Jesus Christ and given to believers for our stewardship. This is a government by the people. Glenn talks about "taking control of the things you can". Doesn't he get it, that the very things he values, family and freedom are the main targets of the hedonist and atheistic left and soon we will have control over exactly nothing? The central planners are not going to leave us unmolested to raise our families, work our jobs, educate ourselves, keep our money, protect our homes, care for our bodies, worship in our churches or even picnic in the park.

Winston Churchill had this to say about resisting tyranny:
"If you will not fight for right when you can easily win without bloodshed; if you will not fight when your victory is sure and not too costly; you may come to the moment when you will have to fight with all the odds against you and only a precarious chance of survival. There may even be a worse case. You may have to fight when there is no hope of victory, because it is better to perish than to live as slaves."
We are to take back the government, the school systems, the media, the banking system, the justice system, the police departments, all the institutions Glenn said he lost faith in. We also need to take back the liberal errant theologies and apostate churches of which Glenn Beck is a part. Religious people can start reclaiming their country by not voting for anti-religion candidates like far too many did in the last election. Mitt Romney even lost 22% of the Mormon vote to Barrack Hussein Obama.
The great commission given by Jesus Christ was to preach the gospel of God's love and eternal life to all nations and tribes. The history of the world will not end until this is accomplished. His church is charged with this mission and while the body of believers remain on this earth, the Holy Spirit will work to restrain evil in the world. The heavenly Father has promised us this. "If my people, which are called by my name, shall humble themselves, and pray, and seek my face, and turn from their wicked ways; then will I hear from heaven, and will forgive their sins, and will heal their land." (II Chronicles 7:14) God has called us to resist evil and occupy until He comes. Patrick Henry also said: "There is a just God, who presides over the destinies of nations, and who will raise up friends to fight our battles for us. The battle, sir, is not to be strong alone; it is to the vigilant, the active, the brave."
I pray for Glenn Beck's peace of mind and for his continuing efforts to put out the conservative viewpoint. I also pray during this Easter season, that Glenn will receive true revelation of Jesus of Nazareth by the Holy Spirit through which comes wisdom, joy, kindness, peace, perseverance and courage. This is where our faith belongs. Jesus said, "I have told you these things so you may have peace. In this world you will have trouble. But take heart, I have overcome the world." (John 16:33)
____________
Chuck Busch may be contacted via email him atBuscCharles@aol.com
Comments
comments
Social Networking
Help the Soldiers!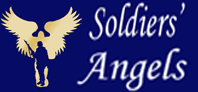 American Genius
Our Founding Ideas
---
"Governments are instituted among men,deriving their just powers from the consent of the governed." Declaration of Independence July 4, 1776
---
Subscribe in a reader




Tweets by @warnerthuston

Recently Written
What THEY Say:
Foreign News In English
Click HERE for information
on my fedora collection.Antique Stetsons, hat history...

Contact Us
Email Publius' Forum
Archives