April 28, 2016 | Filed Under Anti-Americanism, Bill of Rights, Children, Conservatives, Constitution, Democracy, Democrats/Leftists, Education, Elections, Entertainment, Ethics, Free Speech, Freedom, GOP, Government, Government Corruption, Hollywood, Law, Liberals, Liberty, Media, Movies, Music, Progressives, Republicans, Warner Todd Huston | Comments Off on
---
Unapologetic Millennial Conservative Has a TOUGH Message for Her Generation

-By Warner Todd Huston
Young journalist Alexis Bloomer has a message for her fellow millennials and it's one many won't want to hear. Alexis wants her fellow 20 somethings to "pull their pants up" and start actually contributing to society instead of lazing around and posting social media updates as if that was activism.
Bloomer also has a message to the older generations: "I'm Sorry," she says. Sorry for the many failings of her arrogant generation.
The journalist said she decided to assess her generation. "As a millennial, I decided to take it upon myself to try to evaluate what's so wrong with our generation and why they're so mad at us," she said on her video posted to Youtube.
But as she looked over her generation she realized that some of the harshest criticism of millennials probably has a lot of validity to it.
"We're just existing, we're not really contributing anything to society," she insisted and then went on to lay out all the accusations against her generation.
"Our generation doesn't have the basic manners that include no ma'am and yes ma'am," Bloomer said. "We don't even hold the door open for ladies much less our elders anymore."
Read more
April 26, 2016 | Filed Under 2nd Amendment, Anti-Americanism, Australia, Bill of Rights, Constitution, Courts, Democracy, Democrats/Leftists, Ethics, Free Speech, Freedom, Government Corruption, Gun Control, Guns, Hillary Clinton, Judges, Liberals, President, Progressives, Regulation, Supreme Court, Warner Todd Huston | Comments Off on
---
Chelsea Clinton Spills the Beans on Hillary's Plans to Confiscate Guns Using the Supreme Court

-By Warner Todd Huston
We here are the Federalist Papers Project have been warning that if Hillary Clinton becomes President she will be a true anti-gun president and will seek to confiscate our guns and put a major crimp in our Second Amendment rights. Now Hilary's own daughter, Chelsea, is flat out admitting that what we have been saying here is 100 percent correct: Hillary will seek to destroy the Second Amendment.
In an MSNBC broadcast of comments made at a campaign event in Maryland, Chelsea Clinton flat out admitted that her mother would seek to undermine the Second Amendment and take away our rights. Chelsea also specifically noted her mother will stack the Supreme Court with extremist liberals who will follow her policy to destroy the Second Amendment.
"It matters to me that my mom also recognizes the role the Supreme Court has when it comes to gun control," Chelsea said this month. "With Justice Scalia on the bench, one of the few areas where the Court actually had an inconsistent record relates to gun control. Sometimes the Court upheld local and state gun control measures as being compliant with the Second Amendment and sometimes the Court struck them down."
"So if you listen to Moms Demand Action and the Brady Campaign and the major efforts pushing for smart, sensible and enforceable gun control across our country, disclosure, have endorsed my mom, they say they believe the next time the Court rules on gun control, it will make a definitive ruling," Clinton added. "So it matters to me that my mom is the only person running for president who not only constantly makes that connection but also has a strong record on gun control and standing up to the NRA."
Read more
April 22, 2016 | Filed Under 2nd Amendment, Anti-Americanism, Concealed Carry, Constitution, Democrats/Leftists, Ethics, Free Speech, Freedom, Government, Government Corruption, Gun Control, Guns, Hillary Clinton, Law, Liberals, Liberty, NRA, Progressives, The Law, Warner Todd Huston | Comments Off on
---
Hillary Clinton Hints She'll Back Gun Confiscation as President

-By Warner Todd Huston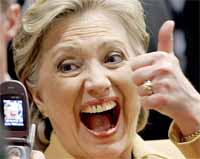 At a recent campaign event on so-called "gun violence," Hillary Clinton said Americans own too many guns and then said she'd do something about this "problem" when she becomes president. What else could this mean but confiscation?
Clinton was speaking at round-table-like forum on guns held at St. Paul's Baptist Church in Philadelphia, where she insisted we have too many guns.
"When it comes to guns? We have just too many guns," Hillary said to the applause of those in attendance. "On the streets, in our homes, in our neighborhoods."
She went on to say America must address the "epidemic" of guns and hinted that if she were to become president she would do something about it all. But what would that "doing something" look like?
Well, it must be remembered that last year Clinton spoke positively about the gun confiscation policy imposed on the people of Australia. Clinton said the Australian policy is one "worth considering" and said it could be imposed using the Obama program "Cash for Clunkers" as a model.
Read more
April 21, 2016 | Filed Under Business, Capitalism, Communism, Constitution, Democrats/Leftists, Economy/Finances, Ethics, Government Corruption, Jobs, Liberals, President, Progressives, Senate, Socialism, Uncategorized, Warner Todd Huston | Comments Off on
---
Flashback: Bernie Sanders Kicked Out of Hippie Commune for Shirking Work

-By Warner Todd Huston

In a new book chronicling the history of a 1970s commune, an author claims that self-avowed socialist Vermont Senator Bernie Sanders was kicked out of the place for shirking the work required of its residents.
According to author Kate Daloz, in 1971 when he was 30-years-old, Bernie Sanders came to the commune just as he was launching his career in the socialist Liberty Union Party.
But after staying for a period of time, the commune's staff asked Sanders to leave because he spent all his time sitting around talking about politics and taking other residents away from the work they were required to do to keep the facility running.
In the forthcoming book We Are As Gods, Daloz presents a history of the Myrtle Hill Farm commune situated in picturesque Northeast Vermont.
According to the Freebeacon, the author says that Sanders went to the commune for research purposes. Apparently he was writing an article on natural childbirth for the Liberty Party Union's magazine, "Movement."
But according to author's interviews, Sanders was a disruptive influence among the hippies and yippies living there.
Daloz found one resident named Craig who told her he "resented feeling like he had to pull others out of Bernie's orbit if any work was going to get accomplished that day."
Read more
April 19, 2016 | Filed Under Anti-Americanism, Civil Rights Act, Civil War, Congress, Conservatives, Democracy, Democrats/Leftists, Ethics, GOP, Government Corruption, History, Liberals, Policy, President, Progressives, Senate, Slavery, Warner Todd Huston | Comments Off on
---
Today is the Anniversary of When Republicans Outlawed the Democrat Run KKK Terror Group

-By Warner Todd Huston
It is indisputable that the Republican Party is really the party of civil rights, not the Democrats. And today we have one more example of that truism with the 145th anniversary of the Republican Party's essential outlawing of the Ku Klux Klan, the Democrat Party's domestic terror group.
The actions against the Klan stemmed from an outrageous massacre of nearly 300 blacks perpetrated by white, Democrat Klan members in Louisiana in 1868.
On September 28, 1868 — three years after the Confederate south lost the civil war — a mob of marauding whites rampaged through Opelousas, Louisiana and massacred nearly 300 blacks who were Republican voters.
The outrage began when white, Democrat KKK members attacked the white owner of a Republican-leaning newspaper. The newspaper editor, a former school teacher for black students, was defended by several black friends during the attack and this action enraged the mob further sending them on a day-long spree of murder and mayhem.
The attack was so outrageous that the Republican Party acted to essentially ban the KKK. By April 20, 1871, the GOP passed a law banning the oppression perpetrated by the KKK when President Ulysses Grant and Congress passed the Ku Klux Klan Act, also known as the third Enforcement Act. The law established penalties against anyone who tried to deprive any other citizen the benefit of equal protection under the laws of the United States. The law also gave the president the power to use the military to ensure that the rights of blacks were upheld.
This interest in civil rights carried all the way to the 1964 Civil Rights bill that was passed with the overwhelming support of Republicans.
Read more
April 16, 2016 | Filed Under Anti-Americanism, Barack Obama, Business, Cap and Trade, Climate Change, Coal, Congress, Constitution, Democrats/Leftists, Economy/Finances, Elections, Electric, Energy, Environment, EPA, Ethics, Freedom, Government, Government Corruption, Jobs, Liberals, Liberty, President, Progressives, Regulation, Taxes, The Law, Warner Todd Huston | Comments Off on
---
Obama's Promise to Destroy the Coal Industry Has Been Kept

-By Warner Todd Huston
Back in 2008 Barack Obama was given little notice when he told the editorial board of the San Francisco Chronicle that if he became president he'd work to destroy the coal industry, both for miners and power providers. Now, as his presidency comes to an end we see he has kept that promise.
This month, despite that coal is still one of the world's leading sources of energy, America's biggest coal company, Peabody Energy, filed for bankruptcy. Peabody joins a growing list of bankruptcies of other American coal concerns including Alpha Natural Resources, Arch Coal, and Patriot Coal.
Granted the industry had problems before Obama came along, but those problems became but a small part of the insurmountable obstacles put in their way by Obama's policy to "bankrupt" the coal industry.
And before you think we here at Publius Forum are just being hyperbolic, no, "bankrupt" is exactly the term Obama used in his interview in 2008.
Here it is in Obama's own voice…
Read more
April 2, 2016 | Filed Under Conservatives, Democracy, Democrats/Leftists, Elections, Ethics, GOP, Government, Government Corruption, Liberals, Policy, President, Progressives, Republicans, Warner Todd Huston | Comments Off on
---
Let's Clear Something Up About a 'Contested' GOP Convention, Voters DON'T Count and NEVER DID!

-By Warner Todd Huston
There is a lot of valid angst about who will become the nominee for both the Republican and the Democrat Parties this year. We are in a day when the voters are clearly pulling in a multitude of ways and not giving any candidate an overwhelming nod. But there is also a lot of BS about how "the will of the voters" is being thwarted by the party system and much of this is misinformed.
I am not saying that none of this should make you mad. Just get the facts before you get mad. Don't shy from getting mad, just be informed while you do it!
Let's just get one fact out of the way at the outset: your vote in a primary is not and never was the only or even the final say on who the party picks for its nominee. The will of the voter does matter in a general election where the nation picks the president, but not as much in a primary when the parties are picking who they will offer up as a candidate for the forthcoming general election. The fact is, primaries are not "the election."
It is the party that picks the nominee, not the voter. Yes, the votes in the primary are a key guide for the party and yes, if the vote is overwhelming for a particular candidate both parties generally chose that candidate. But, the fact is the parties — any party — can pick who ever the heck they want quite regardless of the vote totals.
After all, that is what a party is for, to control its destiny and policies.
Read more
Social Networking
Help the Soldiers!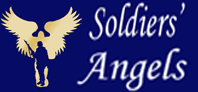 American Genius
Our Founding Ideas
---
"Governments are instituted among men,deriving their just powers from the consent of the governed." Declaration of Independence July 4, 1776
---
Recently Written
Featured Sites



What THEY Say:
Foreign News In English
Illini Alliance
Blogroll
Political Parties

Contact Us
Email Publius' Forum
Archives
Links
Other Blogs
MilBlogs
Religion

Gun Rights
Education
Radio Hosts