August 31, 2016 | Filed Under Anti-Americanism, Anti-Semitism, Congress, Conservatives, Democrats/Leftists, Donald Trump, Elections, Ethics, GOP, Government, Hillary Clinton, Journalism, Liberals, Media, Media Bias, Progressives, Race, Racism, Warner Todd Huston | Comments Off on
---
Time to 'John Birch' the Alt-Right? No, More Like Time to Ignore Them

-By Warner Todd Huston
This week redoubtable conservative columnist Jonah Goldberg noted that the conservative movement must "John Birch" the Alt-Right, meaning we need to destroy them and kick them out of the center right tent. But Jonah is being ridiculous. In reality we need to go back to ignoring this group of loudmouthed misfits because they are insignificant.
In his August 31 article, Goldberg waxed poetic over how wonderful Hillary Clinton has been for defending conservatives against the racists, hatemongers, and nutballs of the "Alt-Right."
Hillary recently went on a tirade against this mysterious Alt-Right, denouncing them as racists, and slamming GOP nominee Donald Trump for playing the Alt-Right's racist, white supremacist game. Goldberg apparently thought her speech and focus was wonderful and suggested that instead of Hillary shouldering this task alone the whole of the center right coalition should come down on the Alt-Right just as hard as William F. Bucklyites did against the John Birch Society in the early 1960s.
For a bit of history, the John Birch Society (JBS) was a very large and potent pseudo conservative group founded in 1958 and led by a messianic leader named Robert W. Welch, Jr. The group's main appeal was a virulent anti-communism, which was a popular ideal at the height of the Cold War. It also developed into a strong nationalist organization that opposed the U.N. Welch even attacked President Eisenhower as a communist plant in the White House and there were also elements of racism among JBSers.
At one point the group claimed to have a million members but whatever its real number it certainly had chapters all across the nation. And all its members were fed by Welch's newsletters and propaganda.
Eventually the group got so radicalized that Buckley, founder of the National Review magazine, decided that it was time to ostracize them from the conservative movement and make sure Americans understood that the JBSers were absolutely not part of the conservative movement.
That is what Goldberg is proposing that we now do to the Alt-Right, an internet fringe that grew out of white separatist ideals, crypto Nazism, and filled with Ku Klux Klan members who grew to feel the Klan was just a bit too radical even for them.
Read more
August 15, 2016 | Filed Under Anti-Americanism, Black Lives Matter, Constitution, Crime, Democrats/Leftists, Economy/Finances, Education, Ethics, Government, Government Corruption, Liberals, Policy, President, Progressives, Race, Racism, Warner Todd Huston, Wisconsin | Comments Off on
---
Liberal, Black Rioter Mad Because 'Rich People' Don't 'Give Us None' of Their Money

Liberal, Black Rioter Mad Because 'Rich People' Don't 'Give Us None' of Their Money
-By Warner Todd Huston
THIS is what the left has wrought, folks. We have as the left would define it "a protester" — but who should really be termed "a criminal rioter" — telling the media exactly why he and his pals are setting Milwaukee on fire… it's because, you see, "the rich people, they got all this money and they not like, you know, tryin' to give us none."
Milwaukee TV grabbed one of the rioters who had set about to destroy his own neighborhoods and asked him why they are all rampaging through the streets like lunatics. He said the riot occurred because "rich people" won't "give him money."
Here is what this uneducated young man said on live TV:
"It's sad, because, you know, this is what happen because they not helping the black community, like, you know, the rich people, they got all this money and they not like, you know, tryin' to give us none…"
Rich people not giving us money so we burn down our own neighborhoods. #BlackLivesMatter logic. #Milwaukee pic.twitter.com/Nc9z9JGZJF

— Paul Joseph Watson (@PrisonPlanet) August 14, 2016
And all this rioting in Milwaukee is being perpetrated in the name of a career criminal who confronted police with a semi-automatic firearm and has a long history of crimes including witness intimidation!
Folks, this is what the left has inculcated in our youth – not just in African Americans.
Read more
August 12, 2016 | Filed Under Gary Krasner | Comments Off on
---
The LOOO-HOO-HOO-SER

-By Gary Krasner

Of course, with that title I refer to none other than Don Trump.

Hillary had 2 horrible weeks. So bad, that Trump could have been up 10 points by now, if he had just shut his blasted mouth.

But no, the narcissist can't shut up. He must draw attention to himself. And he can't deliver a scripted speech. Boy, is that secret out now.

His scripted speeches are delivered in monotone, as if he were a 6 year old reading something out loud. At least now I know why he eschews reading a teleprompter. He knows he's bad.

But does he know that he can't explain crap? I mean anything! Does he even know he's blowing up his campaign?

n eExample was the very first speech announcing his candidacy. All he had to say was, "no, of course I didn't mean that all Mexicans are killers and rapists."

And when you understand his inability to explain, or to backtrack from a comment he has made, you understand what happened today:

Trump: "Obama and Hillary founded ISIS."
Read more

August 8, 2016 | Filed Under Anti-Americanism, Conservatives, Constitution, Democrats/Leftists, Donald Trump, Economy/Finances, Education, Elections, Ethics, GOP, Government Corruption, Hillary Clinton, Liberals, President, Progressives, Warner Todd Huston | Comments Off on
---
Here is How #NeverTrump Conservatives Committed Suicide Over Trump

-By Warner Todd Huston
Listen, I get it: Trump is not a conservative It is just that simple. But continuing to oppose him even after he has fairly won the GOP nomination is self-defeating for conservatives–no matter if Trump wins OR loses. Here's why.
First of all, if Trump loses few-rank-and-file, center right voters will blame Trump. They will in part blame those conservatives who so loudly opposed him. They will say that the constant anti-Trump drumbeat by conservatives helped depress the vote for Trump and he lost because of it.
This will distance normal, everyday voters who are not steeped in conservative ideology even farther away from the reach of conservatives hoping to educate voters toward a better way of thinking.
If Hillary wins, these voters whose candidate was beaten by one of the most corrupt Democrats ever to trod the halls of Congress will see no reason at all to listen to a single word conservatives say. Conservatives will have lost the ear of the voters for a lifetime.
Conservatives look like the bad guys in a losing Trump scenario.
Read more
August 4, 2016 | Filed Under Anti-Americanism, Barack Obama, Congress, Constitution, Democrats/Leftists, Donald Trump, Elections, Ethics, GOP, Government Corruption, Hillary Clinton, House of Representatives, Journalism, Liberals, Media, Media Bias, President, Progressives, Senate, Warner Todd Huston | Comments Off on
---
Dear #NeverTrump: Your Fears of Trump as Dictator Are Silly, HERE is Why

-By Warner Todd Huston
One of the many reasons anti-Trumpers say Donald Trump is unsuitable to be our president is that he is an authoritarian and might make for a sort of dictator in the oval office. But whatever Trump's tendencies, it seems pretty clear that this fear is an absurd one.
Firstly we have to realize that having a dictator in office is a legitimate fear. Barack Obama has spent eight years proving to be the most dictatorial and lawless president in American history. It is also completely clear that Hillary has inculcated Obama's lesson well and will be as bad or worse than he has been.
Democrats today don't give a fig about the Constitution or "the law" and will do anything they want until they find opposition too strong to over come. And even in that case they will just put whatever is being opposed on a back burner to be raised later as opposed to abandoned. The fact that the law would prevent them from their actions is meaningless to them. Might makes right to a Democrat and the rule of law has no meaning and Hillary will likely charge forward and do anything she wants and wait to be opposed afterward instead of fearful of being opposed at the start. It's easier to ask forgiveness than permission, as the saying goes.
That Hillary will certainly be at least the second most dictatorial president in history is inarguable.
That being said, what about Trump? I would tend to agree that Trump evinces authoritarian tendencies. His boisterous personality and combative attitude would tend to make one assume he would rather make decrees based on whim rather than issue policies based on a careful consideration of the law. I would also agree that it all isn't very presidential.
But does this make him "just as bad as Hillary"? Any review of the news this week would tend to destroy that claim.
Read more
Social Networking
Help the Soldiers!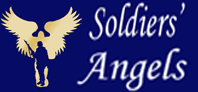 American Genius
Our Founding Ideas
---
"Governments are instituted among men,deriving their just powers from the consent of the governed." Declaration of Independence July 4, 1776
---
Recently Written
Featured Sites



What THEY Say:
Foreign News In English
Illini Alliance
Blogroll
Political Parties

Contact Us
Email Publius' Forum
Archives
Links
Other Blogs
MilBlogs
Religion

Gun Rights
Education
Radio Hosts