April 11, 2017 | Filed Under Warner Todd Huston | Comments Off on
---
A Case Study in How the Left-Wing Media Smears the Right as 'Nazis'

-By Warner Todd Huston
On nearly a daily basis the left-wing media breaks into its charge that conservatives are Jew-hating Nazis and today there was a perfect example of how they do it.
The first story came from the left-wing Israeli newspaper Haaretz which wrote a piece claiming that the internal White House fight between Trump son-in-law Jared Kushner and White House strategist Steve Bannon was stirring anti-Semitism.
Granted in this case Haaretz is a foreign newspaper, but what it wrote is no different than what the left-wing media in the U.S. foists on Americans as "news."
In any case, the attempt to label Steve Bannon a Jew hater is specious right off the top. There is not any proof at all from anyone who has ever dealt with Bannon that the presidential adviser is an anti-Semite.
Read more
April 10, 2017 | Filed Under Anti-Americanism, Crime, Democrats/Leftists, Ethics, GOP, Government Corruption, Journalism, Liberals, Media, Media Bias, Progressives, Vote Fraud, Warner Todd Huston | Comments Off on
---
Media Bias: North Carolina Newspaper Illustrates Democrat Vote Fraud Story with Trump-Pence Sign

-By Warner Todd Huston
Last week a newspaper in North Carolina gave its readers a perfect example of underhanded, media bias in its reporting about a woman who was arrested for voter fraud. The bias was revealed in two parts of the story. First the suspect's party was never once mentioned — naturally she was a Democrat. And even more absurd, the story of a Democrat arrested for vote fraud was illustrated with a giant Trump-Pence campaign sign as if the criminal was a Republican Trump supporter.
The story in question was published in the Raleigh News & Observer on April 5 and told the news of a Granville County election worker who was arrested for altering records to allow convicted criminals to vote Democrat in the 2016 election.
Read more
April 6, 2017 | Filed Under Anti-Americanism, Barack Obama, Budget, Congress, Democrats/Leftists, Donald Trump, Economy/Finances, Ethics, Government, Government Corruption, IRS, Journalism, Liberals, Media Bias, President, Progressives, Republicans, Taxes, Warner Todd Huston | Comments Off on
---
Obama's IRS 'Finds' Over 6,000 Pages of Docs in Corruption Investigation It Never Gave Congress

-By Warner Todd Huston
Even as the Democrats are desperately trying to gin up stories about ties between Donald Trump and the Russians, it is fitting that we get a reminder about real presidential scandals with the sudden admission from what is essentially still Obama's Internal Revenue Service that they suddenly "found" over 6,000 documents in its corruption case from 2013. Worse, it appears the IRS did not include these 6,000 documents in its submission to Congress in 2015.
With this new revelation, we are reminded of the scandal of Obama's IRS using its power in an attempt to destroy the conservative groups that were Obama's political opponents. If you'll recall, the IRS was caught forcing conservative groups to jump through a multitude of hoops to win a tax status costing those groups tens of thousands in attorney fees and all the while liberals groups were given near immediate clearance saving them thousands and allowing them to get on with their political activism in short order.
BREAKING NEWS → Judicial Watch Obtains 695 Pages of Obama IRS Scandal Documents. [First Batch of 7,000-Page Cache] https://t.co/Tsncn9ECfo

— Judicial Watch 🔎 (@JudicialWatch) April 4, 2017
The new documents were revealed to conservative Washington watchdog group Judicial Watch. The documents are part of the group's continuing effort, started back in 2013, to ferret out all of the illegal actions perpetrated by Obama's taxing agency.
Read more
April 5, 2017 | Filed Under Anti-Americanism, Congress, Crime, Democrats/Leftists, DOJ, Donald Trump, Elections, Ethics, GOP, Government, Government Corruption, Hillary Clinton, House of Representatives, Journalism, Liberals, Media, Media Bias, President, Progressives, Republicans, Russia, Security/Safety, Senate, Warner Todd Huston | Comments Off on
---
The Democrats Lies of Ties Between Russia and Trump Continue to Unravel

-By Warner Todd Huston
Since before Donald Trump won last year's presidential election, Democrats have been desperately trying to fool the American people into thinking that Trump somehow worked hand-in-hand with the Russians to steal away the White House from Hillary Clinton. But thus far, after months of pseudo investigations, not a scintilla of proof has been revealed. And this weekend, Democrat Adam Schiff once again showed that Democrats have nothing but lies and innuendo against Trump.
Before we go on, I must address this 100 percent truth as straight as I can: There WAS NO hacking of the U.S. election. Not one vote was hacked. There was no electronic interference with the U.S. election. Period. So, whenever you hear someone say "hacked the election" just know that they are lying to you. Lying. They are not just misinformed. They are purposefully lying to mislead you into thinking the 2016 election was illegitimate.
Now, California Democrat Schiff has been at the forefront of attempting to fool America into thinking Trump is all mixed up with Vladimir Putin's corrupt Russian government. Over last weekend, Schiff appeared on CNN's State of the Union with host Jake Tapper to continue pushing his false claims against the president. But when Tapper asked Schiff about actual proof, the congressman's reply was telling for its evasiveness and lack of specificity.
When Tapper asked Schiff to get more specific during the April 2 broadcast, Schiff mumbled that he "can't say" if the evidence against any ties to Russia are correct. He also softened his previous criticism of House Intelligence Committee Chairman Devin Nunes (R, CA) for having visited the White House before he made his revelations that the Obama administration had, indeed, been surveilling Trump and his campaign before the election. Schiff dissembled further by backing off his previous claim that evidence of collusion between Trump and Russia was "more than circumstantial."
Read more
April 3, 2017 | Filed Under Amnesty, Anti-Americanism, Budget, Business, Capitalism, Congress, Constitution, Crime, Democrats/Leftists, DREAM Act, Economy/Finances, Ethics, GOP, Government Corruption, Immigration/Immigrants, Law, Liberals, Progressives, Regulation, Republicans, Rights, Social Security, Taxes, Warner Todd Huston | Comments Off on
---
Illegal Alien Causes Firestorm After Bragging About Filing Her Taxes in Social Media Post

-By Warner Todd Huston
An illegal alien living in Arizona caused a stir, Thursday, when she jumped to her Facebook page to brag about sending in her tax returns.
As Belén Sisa wrote about her filing, she also noted that she is an illegal.
Sisa posted the following to her Facebook account:
MYTH BUSTER: I, an undocumented immigrant, just filed my taxes and PAID $300 to the state of Arizona. I cannot receive financial aid from the state or federal government for school, I cannot benefit from unemployment, a reduced healthcare plan, or a retirement fund. I think I'm a pretty good citizen. Oh and there are MILLIONS just like me who pay into a system they will never receive anything from. Wanna tell me again how I should be deported, contribute nothing and only leech off this country while the 1% wealthiest people in this country steal from you everyday? How about you show me yours Donald J. Trump? #HereToStay.
Her post quickly went viral getting over 6,500 shares.
Sisa is an Obama "DREAMER" and is still protected by the Deferred Action for Childhood Arrivals program created by Obama.
Read more
Social Networking
Help the Soldiers!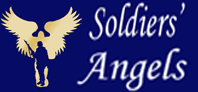 American Genius
Our Founding Ideas
---
"Governments are instituted among men,deriving their just powers from the consent of the governed." Declaration of Independence July 4, 1776
---
Recently Written
Featured Sites



What THEY Say:
Foreign News In English
Illini Alliance
Blogroll
Political Parties

Contact Us
Email Publius' Forum
Archives
Links
Other Blogs
MilBlogs
Religion

Gun Rights
Education
Radio Hosts