April 16, 2013 | Filed Under Abortion, Courts, Crime, Democrats/Leftists, Ethics, Government, Government, Corruption, Journalism, Liberals, Media, Media Bias, Newspapers, Pennsylvania, Pro-Choice, Pro-Life, Progressives, Regulation, Security/Safety, Warner Todd Huston | No Comments
-By Warner Todd Huston
In shades of the Nuremberg Trials, an April 12 article from the Associated Press seems to excuse away the actions of the assistants of accused criminal abortionist Kermit Gosnell as "only following orders."
For the AP, Maryclaire Dale begins her piece with that very sentiment saying, "They say they were just doing what the boss trained them to do."
Incredibly, throughout the article, Dale seems to absolve these assistants for the horrible things they did, softening the guilt of nearly every person accused of crimes with excuses.
In some cases, Dale claims that these accused assistants had a hard time finding jobs before Gosnell gave them a shot at killing babies born alive. According to Dale, one had to work for Gosnell because she had "post-traumatic stress syndrome." Dale excuses others because they were somehow related tangentially to fiendish Doctor Gosnell.
Read more
April 14, 2013 | Filed Under Abortion, Democrats/Leftists, Ethics, Journalism, Liberals, Los Angeles, Los Angeles Times, Media, Media Bias, Newspapers, Pro-Choice, Progressives, Warner Todd Huston | No Comments
-By Warner Todd Huston
It appears that the L.A. Times joined the Old Media's blackout of coverage of the disturbing trail of abortionist Kermit Gosnell, accused of committing hundreds of illegal born-alive abortions, among many other charges, at his Philadelphia abortion mill. A topic search using the words "kermit gosnell" returned only two results at the L.A. Times website by Friday afternoon.
In a trial where a purported doctor is being shown to have shoved sharp scissors into the heads of infants born alive in order to sever the spinal column to "abort" them, where conditions were filthy, where the bodies of dead fetuses hazardously piled up, not to mention where some pregnant women died from botched procedures, the Old Media establishment is simply not interested.
Some of the shocking findings in this trial are contained in the opening statements of the grand jury report.
"The medical practice by which he [Kermit Gosnell] carried out this business was a filthy fraud in which he overdosed his patients with dangerous drugs, spread venereal disease among them with infected instruments, perforated their wombs and bowels–and, on at least two occasions, caused their deaths," the report states.
Read more
April 8, 2013 | Filed Under Abortion, Anti-Americanism, Democrats/Leftists, Education, Ethics, Government, Liberals, Pro-Choice, Pro-Life, Progressives, Warner Todd Huston | No Comments
-By Warner Todd Huston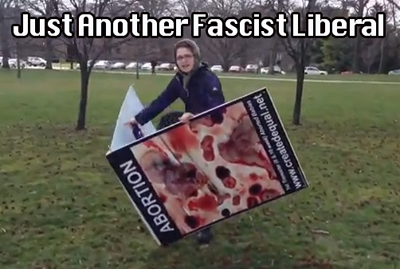 The left claims to be the "tolerant" ones, we all know, but only when you agree with them and a student at Ohio State proved this to be a truism once again by destroying a pro-life student group's signs right on the school's campus and on video, yet. Worse, this student employed what the left calls "racist code words" to denounce the pro-lifers.
The thus far unidentified female student is seen on the video rampaging through the pro-life group's displays screaming that she agrees with abortion to stop "drug addicts" from having unwanted kids.
Naturally this leftist–like all leftists–sees nothing wrong with destroying the public property of those with whom she disagrees. Rights are only for people show "deserve" them as far as the left is concerned.
Read more
April 4, 2013 | Filed Under 1st Amendment, Abortion, Anti-Semitism, Constitution, Democrats/Leftists, Education, Ethics, Government, Corruption, Islamofascism, Israel, Liberals, Palestinians, Pro-Choice, Pro-Life, Progressives, Terrorism, War on Terror, Warner Todd Huston, Washington D.C. | No Comments
-By Warner Todd Huston
In March, the pro-life student group Voice For Live was denied the status of official student club by the Student Government Association at Johns Hopkins University. And even as VFL was compared to white supremacists, racists, and deemed undesirable, the SGA approved a new group called Students for Justice in Palestine despite that the latter group has a history of anti-Semitism and campus disruption.
The SGA (SGA) voted on March 12 to deny Voice For Life (VFL )the right to become an officially sanctioned club. The vote against VFL was later upheld by the SGA senate.
To explain its decision, the SGA claimed that the pro-life group's national website is "offensive" because one of its links takes visitors to the website for Bio-Ethical Reform. The SGA also claimed that because the pro-life group engages in sidewalk counseling at a Baltimore abortion facility, that "clearly violates the JHU Harassment and Code of Conduct policies."
President of Students for Life of America Kristen Hawkins told Fox News that they were shocked to be denied club status.
"We were pretty shocked when the students showed their bias toward the pro-life students," Hawkins said.
Read more
February 4, 2013 | Filed Under Abortion, Anti-Americanism, Children, Contraception, Democrats/Leftists, Ethics, Government, Corruption, Health, Journalism, Liberals, Media, Media Bias, MSNBC, Obamacare, Pro-Choice, Pro-Life, Progressives, Sandra Fluke, Warner Todd Huston | Comments Off
-By Warner Todd Huston
MSNBC is still scheduling Sandra Fluke as a guest and on Friday's NewsNation with Tamron Hall she essentially claimed that leukemia treatments and contraception coverage is pretty much the same thing in the eyes of those "religious employers" that want to use religious objections to deny "healthcare" coverage to employees.
"I think what it is important to note is that some of the folks who are continuing to object to this policy are actually worried about employers who are private companies, not religiously affiliated employers in any way, but the boss has a particular religious concern and they want to be able deny their employees particular types of healthcare.

Now if you take a sep back and think about that, that's, you know, you work at a restaurant, you work at a store and your boss is able to deny you leukemia coverage, or contraception coverage, or blood transfusions or any number of medical concerns that someone might have a religious objection to.

So the folks that are still objecting have some very extreme ideas about religious freedom and employee healthcare in this country.
There are many fallacies in this.
Read more
Social Networking
Help the Soldiers!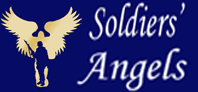 American Genius
Our Founding Ideas
---
"Governments are instituted among men,deriving their just powers from the consent of the governed." Declaration of Independence July 4, 1776
---
Recently Written
Featured Sites



What THEY Say:
Foreign News In English
Illini Alliance
Blogroll
Political Parties

Contact Us
Email Publius' Forum
Archives
Links
Other Blogs
MilBlogs
Religion

Gun Rights
Education
Radio Hosts