May 27, 2015 | Filed Under Anti-Americanism, Budget, Business, California, Capitalism, Democrats/Leftists, Economy/Finances, Ethics, Free Trade, Government, Government Corruption, Jobs, Liberals, Los Angeles, Minimum Wage, Progressives, Unions, Warner Todd Huston | Comments Off on
---
After Loud Support, Now Los Angeles Unions Want Exemption from $15 Minimum Wage Law

-By Warner Todd Huston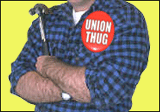 Once again wallowing in the hypocrisy that is liberalism, the same unions that went to the mat to support the new $15 per hour minimum wage law in Los Angeles are now demanding that the city exempt unionized companies from being forced to pay a minimum wage of $15 per hour.
The city's union leaders were some of the loudest supporters of the new minimum wage, but now those same leaders are demanding that the L.A. City Council change the rules and exempt their own special interests from being stuck with the new wage.
Once again we see liberals insisting that everyone but them should be affected by a law they pushed.
Their excuse for the about face is that unionized businesses have already negotiated their deals and that they shouldn't have to change them to observe the new wage law.
Read more
April 29, 2014 | Filed Under Air Force, Anti-Americanism, Army, Barack Obama, Budget, Business, Capitalism, Democrats/Leftists, Economy/Finances, Ethics, Government Corruption, Jobs, Liberals, Marines, Military, Minimum Wage, Navy, President, Progressives, Taxes, Warner Todd Huston | Comments Off on
---
Obama Forcing the Closure of Fast Food Outlets on Military Bases

-By Warner Todd Huston
Four restaurants, three of which are McDonald's, have closed down on several military bases and a host of other outlets, like Pizza Huts, are also saying they will soon be closing their shops. These closures will seriously damage the quality of life for our soldiers on our military bases and it is all thanks to Barack Obama.
The shocking report from the Military Times has several Republican lawmakers alarmed that the quality of life on our military bases will be diminished thanks to Obama's meddling.
According the MT, several other contractors who operate restaurants and other small businesses on military bases "have asked to be released from their Army and Air Force Exchange Service contracts to operate fast food restaurants at two other installations."
Read more
March 31, 2014 | Filed Under Anti-Americanism, Budget, Business, Capitalism, Democrats/Leftists, Dick Durbin, Economy/Finances, Ethics, Government, Government Corruption, Illinois, Jobs, Liberals, Minimum Wage, Progressives, Senate, Tea Party, Warner Todd Huston | Comments Off on
---
Millionaire Sen. Dick Durbin Happy to Pay More for Food for Min Wage Hike And Wants to Force You To

-By Warner Todd Huston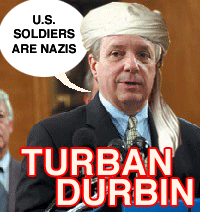 Illinois' millionaire Democrat Senator Dick Durbin says he's happy to pay more for his food if workers get a hike in their minimum wage.
The super rich Durbin who makes far and away more than the average citizen in his state and who has a net worth of far more still, said hew would be pleased as punch to pay "a nickel more" for a hamburger if workers get more per hour than they do now.
So, this rich guy doesn't mind paying more for food in a state that has the worst unemployment record in the country? He wants his own citizens to pay more for things when they can't afford to get by now?
In fact, the very people who his policies have already helped ruin are living in a state that is in one of the worst financial conditions than nearly every state in nearly every category.
Read more
December 4, 2013 | Filed Under Business, Capitalism, Democrats/Leftists, Economy/Finances, Government Corruption, Jobs, Journalism, Liberals, Media, Media Bias, Minimum Wage, Money, Progressives, Regulation, Taxes, Warner Todd Huston | 1 Comment
-By Warner Todd Huston
Mother Jones is an extremely left-wing magazine. It is pro-socialism, pro-unions, and big on paying the minimum wage. Well, maybe big on other people paying the minimum wage because a recent expose found that Mother Jones pays its employees so poorly that executives urge them to sign up for food stamps so they can, you know, eat.
Mother Jones magazine is one of those placard-toting, protest-loving, true red concerns that love Occupy Wall Street whilst screaming "¡Viva la Revolución!" at the top of their red-tinged lungs. But paying their own interns a so-called living wage? Fuggedaboutit.
A recent piece by Vice columnist Charles Davis reported that MJ interns were told that they should go sign up for food stamps because the magazine doesn't pay enough cash to live off of.
Here is how Davis put it:
Read more
November 10, 2010 | Filed Under Anti-Americanism, Business, Capitalism, Congress, Democrats/Leftists, Economy/Finances, Ethics, Government, House of Representatives, Jobs, Liberals, Minimum Wage, Senate, Taxes, Warner Todd Huston | Comments Off on
---
Minimum Wage-Pushing Democrats Don't Pay Congressional Interns

-By Warner Todd Huston
Hypocrisy, they name is Democrat. Michigan's Mackinac Center for Public Policy has laid bare another example of the hypocrisy of Congressional Democrats. In this case while those representatives that are all hot and bothered to push an ever rising minimum wage law are making noise about how inequities exist in the workplace, these same congressmen are sponsoring unpaid internships in their own offices.
How can one be all for the control of wages from Washington D.C. and feel that business should not be allowed to set its own pay rates, yet at the same time offer only unpaid internships in your own offices> It is a hypocrisy that is at once galling and awe inspiring for its brazenness. Yet this is where our out-of-touch, arrogant Congress has come to.
There is nothing wrong with an unpaid or a low paid internship, to be sure. Back in 1981 I served as a $50 a week intern at Chicago Magazine as a way to get some experience in the publishing industry. The money was sort of pointless, really. It wasn't even enough to buy lunch for the week! But it made sense to me to do this and it makes sense for those with political leanings to get their young feet wet in a congressman's office to see how it all works and to make contacts for the future.
Read more
Social Networking
Help the Soldiers!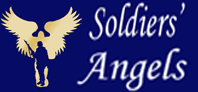 American Genius
Our Founding Ideas
---
"Governments are instituted among men,deriving their just powers from the consent of the governed." Declaration of Independence July 4, 1776
---
Recently Written
Featured Sites



What THEY Say:
Foreign News In English
Illini Alliance
Blogroll
Political Parties

Contact Us
Email Publius' Forum
Archives
Links
Other Blogs
MilBlogs
Religion

Gun Rights
Education
Radio Hosts