May 12, 2013 | Filed Under Anti-Americanism, Barack Obama, Business, Capitalism, Conservatives, Constitution, Crime, Democrats/Leftists, Ethics, GOP, IRS, Journalism, Liberals, Media, Media Bias, President, Progressives, Taxes, Warner Todd Huston | 1 Comment
-By Warner Todd Huston
During the 2012 presidential campaign, many conservatives complained that the IRS was targeting them for harassment, some even claimed that Obama had an "enemies list." During that time the progressive media complex ridiculed these claims but now the IRS itself has come forward to "apologize" for just the sort of behavior that conservatives accused it of during the late campaign for president.
The New York Times, led the way last year not only dismissing claims that the IRS was acting in a partisan manner by saying that the IRS was just doing its job, but the so-called paper of record went further calling for the taxing agency to step up its efforts to an even higher degree.
In another report, the Times attempted to spin the whole discussion as little else but a Republican effort to create a false political narrative.
Huffington Post joined that line of attack with a piece by Dan Froomkin who similarly praised the IRS for its targeting of political groups and insisting that more be done.
Froomkin additionally reported that everything the IRS was doing was "perfectly normal and appropriate."
Read more
May 9, 2013 | Filed Under Conservatives, Republicans, Warner Todd Huston | Comments Off
A good friend of mine is doing a new show….
Fun stuff. Please subscribe to his channel.
May 7, 2013 | Filed Under Congress, Conservatives, Democrats/Leftists, Elections, GOP, House of Representatives, Liberals, Progressives, South Carolina, Warner Todd Huston | Comments Off
-By Warner Todd Huston
Hook up site AshleyMadison.com is again courting controversy after debuting a new billboard campaign south of Columbia, South Carolina, that uses a photo of ex Governor Mark Sanford to sell its tryst-arranging services.
The ad appears on Interstate 26, 25 miles below South Carolina's state capital, Columbia, and takes up two, stacked billboards. The top billboard reads "Next time use…" next to a photo of Gov. Sanford. The one below reads "AshleyMadison.com to find your 'running mate.'" The lower billboard also features the website's slogan, "Life is short. Have an affair."
The site's CEO, Noel Biderman, claims that he hopes his billboards will lead to more acceptance for adultery and cheating and lead to less criticism for those who indulge such behavior.
"We are trying to get people to distinguish between capability, and what goes on in the bedroom," Biderman said. "There are few voices speaking on behalf of those who are unfaithful. Once we found out [Sanford] was back in business, that's the story we want to attach ourselves to. We believe careers shouldn't be lost because you choose not to sustain monogamy."
Sanford drew criticism in 2009 for an extramarital affair that eventually drove him from the Governor's office. Now, Ex-Governor Sanford is now running for Congress in South Carolina. His campaign has not released a statement on the billboards.
Read more
May 6, 2013 | Filed Under Conservatives, GOP, Illinois, Missouri, Republicans, Warner Todd Huston | Comments Off
-By Warner Todd Huston
If you are a Midwesterner–especially in Illinois and Missouri–and you are in any way connected with political campaigning, you've heard about or run across Chip Gerdes. A big bear of a guy, Gerdes was one of the two states' most active background operatives.
Gerdes wasn't an "out there" guy, not the sort of guy that people outside of the in-the-know world of political operatives would have met or heard of. Chip worked behind the scenes and his hand was evident in so many issue and candidate info campaigns in Illinois it was hard to keep track of them all. As Breitbart.com's Joel Pollak said, "He was an Alinskyite–for the good guys."
Chip was always very full of life, verve, and swagger. Ever ready to ride to the sound of the guns whenever conservatives in Illinois and Missouri needed him. And boy did he love what he did.
Whenever one encountered Gerdes he was gregarious with a slap to the back, a hearty handshake, a word about his latest campaign effort, and an offer to go get a drink at the earliest convenience.
Read more
May 1, 2013 | Filed Under Anti-Americanism, Budget, Business, Capitalism, Conservatives, Democrats/Leftists, Economy/Finances, Elections, Ethics, GOP, Jobs, Liberals, Magazines, President, Progressives, Republicans, Taxes, Warner Todd Huston | Comments Off
-By Warner Todd Huston
Lee Fang has cobbled together a new book ostensibly meant as a guide to things that conservative activists are doing for their cause and in his chapter on the Koch brothers he regurgitates dozens of un-sourced lies that have little basis in fact even as he presents them as fact.
Firstly we must dispense with any pretense that Lee Fang is anything but a screedist, a young fellow whose only goal is to churn emotional hatred against conservatives. He isn't interested in truth or facts and his style is to just spin loose associations into grand conspiracies in order to push his narrative.
Fang is so bad that he has had to be scolded by his own publishers for his lies. He "writes" for the left-wing magazine The Nation and why they continue to employ him after his years of outright lies is anyone's guess.
Take Fang's April 22 piece on how climate "reform" was "poisoned from the inside." His piece was so filled with innuendo, lies, and distortions that The Nation had to post a three-paragraph disclaimer telling readers that everything they wee about to read was essentially untrue. This warning to the reader was half as long as Fang's piece!
Anyway, in a Washington Free Beacon article amusing titled "Half Baked," Lachlan Markay does a great job deconstructing Fang's latest lies about the Kochs
Read more
April 30, 2013 | Filed Under CNN, Conservatives, Ethics, Fox News, Glenn Beck, GOP, Government, Journalism, Media, Media Bias, Warner Todd Huston | Comments Off
-By Warner Todd Huston
While accepting a media award in New York City, former Fox News commentator Glenn Beck offered a little hint as to why he left Fox and went out on his own. It was to save his soul.
Beck made this revelation to the audience at the Tribeca Film Festival where he was awarded a Disruptive Innovation Award alongside such counter-revolutionaries as shock filmmaker Morgan Spurlock and reporter Jose Vargas who made news for outing himself as an illegal immigrant.
Beck told the awards attendees that he feels TV is a dying art form, but, as Jeff Bercovici reports, that isn't the only reason he left Fox News.
"If you stay in it too long, you become Norma Desmond," Beck said at the Friday, April 26 awards ceremony. "I remember feeling, 'If you do not leave now, you won't leave with your soul intact.'"
Read more
April 29, 2013 | Filed Under 2nd Amendment, Alexander Hamilton, Ben Franklin, Congress, Conservatives, Constitution, Declaration of Independence, Founders, George Washington, Government, Gun Control, Guns, History, House of Representatives, John Adams, Military, Regulation, Revolutionary War, Senate, Thomas Jefferson, Warner Todd Huston | Comments Off
-By Warner Todd Huston
The Question:
The Second Amendment to the Constitution of the United States of America, 1789: "A well regulated militia being necessary to the security of a free state, the right of the people to keep and bear arms shall not be infringed."
We talk about the "right of the people" to "bear arms" all the time. But we don't often talk about the "well regulated militia" part that precedes it. So, what is it about? Is this militia still relevant to us today? Can we just ignore it? If unnecessary, does the lack of a need for the militia make the whole Second Amendment null and void?
Background:
Our founders had just fought a war with one of the greatest powers in the world. In the mid 1780s, British forces were considered the best of the best. But our founders hadn't joined a war with a "foreign power." They had fought a war with their own government in order to separate from it and start anew. This was because we Americans felt England had violated our very rights as Englishmen.
As our Declaration of Independence notes:
"Prudence, indeed, will dictate that Governments long established should not be changed for light and transient causes; and accordingly all experience hath shewn, that mankind are more disposed to suffer, while evils are sufferable, than to right themselves by abolishing the forms to which they are accustomed. But when a long train of abuses and usurpations, pursuing invariably the same Object evinces a design to reduce them under absolute Despotism, it is their right, it is their duty, to throw off such Government, and to provide new Guards for their future security."
Read more
April 28, 2013 | Filed Under Congress, Conservatives, Freedom, Kentucky, Liberty, Mitch McConnell, Patriotism, Republicans, Senate, Warner Todd Huston | Comments Off
Kentucky's senior Republican Senator uncorked a great ad on liberty, conservatism, and American ideals.
Go get 'em Mitch!
April 21, 2013 | Filed Under al Qaeda, Anti-Americanism, Congress, Conservatives, Democrats/Leftists, Elections, Ethics, GOP, Government, House of Representatives, Illinois, Islam, Islamofascism, Joe Walsh, Koran, Liberals, PCism, President, Progressives, Republicans, Russia, Society/Culture, Tammy Duckworth, Terrorism, Warner Todd Huston, Western Civilization | Comments Off
-By Warner Todd Huston
TODAY: A bombing during the Boston Marathon kills three and injures over a hundred, some requiring multiple amputations. Muslims that had become naturalized American citizens perpetrated these crimes.
During the 2012 election cycle, then Representative Joe Walsh was attacked by his opponent, Tammy Duckworth–now our elected Congressman–and her campaign assistants in what we call "the press" because at a campaign stop he said there are homegrown radical Islamists in America that are just as dangerous as those overseas.
In response to criticism by Dhimmi Duckworth, Walsh said the following: "While the overwhelming majority of Muslim Americans are as peace loving as everyone else, there are radical Islamists right here in the United States trying to kill Americans and destroy this country."
This man was turned out of office despite that he was 100% right. Now we have a terror apologist in that seat in Washington DC. This is only in keeping with a President that feels the same way as Dhimmi Duckworth.
Obama and Dhimmi Duckworth have failed to keep America safe. Boston's blood is on their hands.
Joe Walsh now has his own radio show on WIND-AM Chicago.
Read more
April 20, 2013 | Filed Under Arkansas, Campaign Finance, Conservatives, Elections, GOP, House of Representatives, Republicans, Warner Todd Huston | Comments Off
-By Warner Todd Huston
Freshman Congressman Tom Cotton (R, AR) has announced that he's already raised $525,000 in the first quarter of the year, quite a haul for this young Congressman from Dardanelle, Arkansas.
"The campaign has over $560,000 cash on hand and no debt," Cotton's campaign said in a statement. "As I keep my campaign promises to promote economic opportunity for all, fight wasteful spending, and defend America against all enemies, I'm grateful for the continued generosity and confidence of my supporters," Rep. Cotton said.
Tom Cotton was elected to Arkansas' 4th District after five-term Rep. Mike Ross retired. He won office in 2012 and is now serving his first term.
Read more
April 15, 2013 | Filed Under Arizona, Conservatives, Crime, Elections, Ethics, GOP, Republicans, Warner Todd Huston | Comments Off
-By Warner Todd Huston
On Friday morning, April 12, a package suspected of containing an explosive device was addressed to the offices of the Maricopa County, Arizona, Sheriffs offices of Joe Arpaio, known as "America's toughest sheriff."
The package was intercepted by postal authorities in Flagstaff and was submitted to an X-ray scan that showed what looked like an explosive device hidden inside.
Postal authorities said that the package was flagged by a "very astute" carrier who thought the thing was suspicious.
The bomb squad was quickly called and the suspicious package was destroyed.
Read more
April 15, 2013 | Filed Under Conservatives, Elections, GOP, Illinois, Republicans, Senate, Warner Todd Huston | Comments Off
-By Warner Todd Huston
Chad Koppie has decided to throw his hat in the ring for the 2014 race for Senate and recently I took a few minutes to get an idea of what issues interest him. Koppie is both fiscally as well as socially conservative and has several considered ideas about how things need to be.
Koppie is a conservative Republican from Kane County and currently sits on the Kane County Regional Board of Schools. He has also been a township trustee, a school board member, and a hospital board member in his county. He's run for other offices, most recently for Senate in 2008.
In 2008, Koppie ran under the Constitution Party banner for Senate. You can see his presentation at WTTW T's "free time" segment from 2008.
His bio states: "Chad Koppie is strongly pro-life, pro-gun rights, and anti-illegal alien. He wants to repeal Obamacare. He wants to help eliminate the Dept. of Education, audit the Federal Reserve, and cut all other federal spending by 3%, per year, for 10 years. He supports a federal flat tax. He supports a balanced budget amendment, for the Constitution."
I began our discussion asking him about the Illinois establishment GOP. I wondered how he was going to get their support. Turns out, he didn't intend to worry much about the establishment and plans on reaching out to the grassroots to launch his campaign.
Read more
April 10, 2013 | Filed Under Arizona, Barack Obama, Conservatives, Constitution, Crime, Democrats/Leftists, Elections, Ethics, GOP, Liberals, President, Progressives, Regulation, Republicans, Warner Todd Huston | Comments Off
-By Warner Todd Huston
Only three weeks after re-election in 2012, Sheriff Joe Arpaio was hit with a recall effort. Now, with anti-Arpaio petitions in circulation in Maricopa County, Arizona, "America's Sheriff" is organizing his forces to oppose a recall backed by the deep pockets of the unions, millions in outside money, and a flood of non-Arizonans arriving to act as the left-winger's ground troops. (See www.savesheriffjoe.org)
Arpaio's team is being ramrodded by the Conservative Business League and unlike the opposition's recall efforts, the CBL is an Arizona-based organization. The duo taking the helm of the save Joe campaign is the CBL's Ron Ludders and Bob Thomas.
Ludders and Thomas say that the left's effort to destroy Sheriff Joe Arpaio is no less than an effort to use the Colorado model (the campaign that turned Colorado from red to blue) to give Arizona to the Democrats. It is also a mirror of what the left tried to do to Republican Governor Scott Walker in Wisconsin and, if successful, would be a model for Democrats to regain power in Texas.
Strangely, Arizona's recall law is incredibly loose. An elected official in The Grand Canyon State can be recalled for any reason at all and, with one exception, at any time. Unlike such laws in most states, the Arizona law does not require a recall for cause such as criminal activity, fraud, or other real reasons. The only rule seems to be that the elected official has to be in office for six months into his first term before a recall can be mounted. This rule did not apply to the six-term Sheriff. To start a recall, petitioners must gather the signatures of 25 percent of the number of votes cast in the last election.
Read more
April 10, 2013 | Filed Under Conservatives, Democrats/Leftists, Ethics, GOP, Journalism, Liberals, Media, Media Bias, Progressives, Republicans, Warner Todd Huston | Comments Off
-By Warner Todd Huston
Sometimes the Internet is fun and Breitbart's own Brandon Darby had a ball slamming the profane Wonkette after it accused him of being a "snitch" for helping the feds stop a domestic bombing in 2008 as well as lying about what he recently said about the Aryan Brotherhood.
Firstly, for those unaware, Darby used to be a prominent organizer on the left but when he became aware of a popular Palestinian nonprofit's efforts to kill Israeli civilians, he approached the FBI. The FBI later tasked Darby with infiltrating an anarchist effort to prevent Republicans from assembling during the 2008 RNC. While helping protect the rights of those attending the RNC, a bombing plot against Republican delegates and law enforcement officers was uncovered and Darby ultimately chose to testify against the bomb-makers and his identity was released. Whether Wonkette was upset at Darby for protecting Israeli civilians or for protecting Republican delegates and law enforcement officers, or both, is unknown. Regardless, Wonkette called him a "snitch" for his service.
But Wonkette's newest attack on Darby is over his latest Breitbart piece, "FBI Documents Connect Aryan Brotherhood with Mexican Cartels." In it, Darby points out that the Aryan Brotherhood isn't just about white supremacy anymore.
Read more
April 9, 2013 | Filed Under Business, Capitalism, Communism, Congress, Conservatives, Democracy, Democrats/Leftists, Economy/Finances, Education, Ethics, GOP, House of Representatives, Jobs, Liberals, Policy, President, Progressives, Republicans, Senate, Socialism, Warner Todd Huston | Comments Off
The truth is women make pretty much the same as men when "apples" are compared to "apples"…
the Independent Women's Forum, in a continued effort to set the record straight about the real reason for the statistical difference between men and women's earnings , releases an informative, stop-frame animation web video — Straight Talk About the Wage Gap. The video explains how women's choices ultimately determine how much they earn and how government intervention in the workplace can backfire on women.
April 8, 2013 | Filed Under Congress, Conservatives, Elections, Ethics, Fox News, GOP, House of Representatives, Journalism, Media Bias, Radio, Republicans, Senate, TV, Warner Todd Huston | Comments Off
-By Warner Todd Huston
On April 2 on Fox News' The Five, former George W. Bush press secretary Dana Perino criticized Doctor Ben Carson for appearing on too many conservative shows. This criticism sent talk show host Mark Levin into criticism of his own saying he was sick of these "preening, elitist, country club Republican(s)."
Ben Carson is the newest star in the conservative firmament and he's now entering that spot in his debut onto the scene were pundits think they know better about how he should comport himself than he does. Thus, Perino's advice for Carson is to stop doing TV and radio and "lay low" for a while.
Why? According to Perino it's because doing conservative talk radio is bad for his image. Already Carson has "burned through so much of his credibility," Perino claimed.
Read more
April 6, 2013 | Filed Under Budget, Business, Conservatives, Constitution, Democrats/Leftists, Economy/Finances, Elections, GOP, Government, Liberals, Progressives, Republicans, Senate, Taxes, Ted Cruz, Warner Todd Huston | Comments Off
-By Warner Todd Huston
Foreign Policy magazine has made the stark pronouncement about Texas Senator Ted Cruz. According to FP's Erica Grieder, Cruz is "the most hated man in the U.S. Senate."
In a March 29 piece, Grieder made this extreme pronouncement based on the new Senator's outspoken positions on many issues as well as on how irksome he is to old guard Senators who imagine that first year colleagues should be seen and not heard.
Grieder starts her piece with several gratuitous insults. Right off she says that Cruz is "the human equivalent of one of those flower-squirters that clowns wear on their lapels." She then calls his initiatives and ideas "non-sequiturs" and says they are "self-defeating." This was all just the first paragraph.
Next we learn that Cruz has "irritated" Democrats like Dianne Feinstein and been a "headache for GOP leaders." This all because he stands up strongly for his principles and the positions that got him elected.
Does this really make him "hated," though? He may elicit distaste in these old guard Senators and in those Senators that stand squarely against his principles, but "hated"? That is quite a subjective assessment.
Read more
April 3, 2013 | Filed Under Chuck Busch, Conservatives, Entertainment, Ethics, Fox News, Glenn Beck, GOP, Journalism, Media, Media Bias, Republicans, Rush Limbaugh, Talk Radio, TV | Comments Off
-By Chuck Busch
To: Mr. Larry Klayman of Freedom Watch
I just received your recent newsletter in which you related what Glenn Beck said on his Internet Broadcast program concerning inane ideas about "surrender." I was not aware of his statement as I make it a point to not tune into Glenn on the Internet or on his radio program. Initially, I thought he was doing a service by bringing out controversial information on little discussed subjects that all American's should be aware of. However after a time, he lost believability, was let go by FOX News and his radio program dissolved into silliness. This is not a time for frivolity and jokes. It is time for a serious effort to educate a misguided populace.
I have been concerned for some time that the host of conservative commentators on radio and TV, with the exception of Rush Limbaugh, have become entirely too harsh and strident contributing to the characterization that conservatives are uncaring and cold-hearted. Anger (and we all have reason to be angry) is too strong of an emotion to sustain over the long term and it is Obama's strategy to wear us out. Rather than engaging in a personal shouting match with our opponents, we need to meet the challenges to our liberties with a steadfastness, confidence and calmness that will convince people of the soundness of our arguments. The face of conservatism and the Republican Party must attract more listeners and entreat them to consider objectively the major issues of the day. Instead of people reacting to the personality of the talk show host, let them focus on the substance of the debate. (See article on Fox News programming by Michael Reagan titled "New Song, New Singers" March 21, 2013.)
I have already mentioned Rush Limbaugh who founded conservative talk radio and is, without doubt, the master of the trade. He has an uncanny way of being critical of the administration but doing it in a good-natured humorous manner. Ridicule can be a good weapon against these uptight liberals but only if used in a skillful way. Rush, in this post-election cycle, has also made it his objective to connect with the "low information voter" which is a brilliant strategy. The people must be convinced that the supposed benefits of a generous federal welfare state are not only corrupting, but are unsustainable and are not worth the lost of liberties that they entail. They must also learn that this administration does not have their best long-term interests are heart and it's social and economic policies have produced this ongoing distress in all aspects of American life.
Read more
April 2, 2013 | Filed Under Conservatives, Elections, GOP, Government, Journalism, Media, Media Bias, Politico, Rick Perry, Warner Todd Huston | Comments Off
-By Warner Todd Huston
In a March 28 article, Politico made to report on the situation in Texas Governor Rick Perry's inner circle but instead of a concise report this long and oddly repetitive piece was seemingly more interested in constantly reminding readers that the Governor didn't fare too well in the 2012 Presidential election.
The quixotic piece by Politico's Alexander Burns is ostensibly about a lightly manned Perry campaign staff. Many older Perry staffers, Burns reports, have now left the Governor's employ and there seems to be some confusion as to public knowledge of who is doing what inside Perry's organization.
But Burns' motivation for the long piece is questionable. For one thing, he notes several times that Perry is in a "different" phase of his work as Governor in that being governor is his chief job at the moment. Therefore, future campaigns have taken a back seat to governing. This, of course, would be a good reason why Perry has thinned his campaign staff. He just doesn't need an entire retinue of advisors and campaign staffers to do his job as Governor. In fact, this point seems to make much of Burns' speculations rather moot, yet his reporting leads readers to imagine that Perry's staffers are like rats leaving a sinking ship.
Read more
April 2, 2013 | Filed Under 1st Amendment, Anti-Americanism, Ben Carson, Conservatives, Democrats/Leftists, Ethics, Gay Marriage, Gays, GOP, Liberals, Nanny State, Progressives, Warner Todd Huston | Comments Off
-By Warner Todd Huston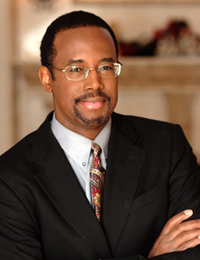 In an appearance on MSNBC, Neurosurgeon Ben Carson bowed to pressure to apologize for remarks about traditional marriage he made early last week on the Sean Hannity show.
Appearing with MSNBC's Andrea Mitchell on March 29, Carson tried to explain what he meant with his earlier comments about traditional marriage and made to walk back his thoughts on how marriage should be defined.
"I think in terms of what was said on Sean Hannity's show, that was taken completely out of context and completely misunderstood in terms of what I was trying to say," Dr. Carson said. "As a Christian, I have a duty to love all people and that includes people who have other sexual orientations, and I certainly do, and never had any intention of offending anyone… If anyone was offended, I apologize to you."
Carson's back tracking occurred after MSNBC and other left-wing pundits immediately attacked him for his Tuesday, March 26 appearance on Hannity..
Compared to his later MSNBC appearance, Carson was more definitive on Hannity's show. "My thoughts are that marriage is between a man and a woman. It's a well-established fundamental pillar of society and no group, be they gays, be they NAMBLA, be they people who believe in bestiality, it doesn't matter what they are, they don't get to change the definition," Carson said on Hannity's broadcast.
Read more
March 27, 2013 | Filed Under Congress, Conservatives, Constitution, GOP, Government, House of Representatives, Karl Rove, Mitt Romney, President, Senate, Warner Todd Huston | Comments Off
-By Warner Todd Huston
This year at the Conservative Political Action Conference (CPAC), I was fortunate enough to get some time to interview one of the most redoubtable conservative activists in the nation, Phyllis Schlafly. In this eighteen minute video you will encounter a woman that is extremely vital and at 89-years-of-age still sharp as a tack.
As is her wont, Schlafly eschewed kid gloves with her frank discussion of the GOP establishment and how those effete, east coast, country clubbers are at war with the conservative, Midwestern grassroots.
Take Schlafly's description of "the establishment," for instance:
Read more
March 26, 2013 | Filed Under Barack Obama, Conservatives, Democrats/Leftists, Entertainment, Government, Liberals, NBC, President, Progressives, TV, Warner Todd Huston | Comments Off
-By Warner Todd Huston
Despite solid ratings and wide appeal to middle America, NBC is poised to replace Jay Leno with Jimmy Fallon as the host of the Tonight Show as Leno's contract nears its end.
Leno was off the show for six months between 2009 to 2010 when Conan O'Brien briefly hosted the Tonight Show, but as the news breaks that he's to be replaced, this time by Fallon, some news outlets are calling Leno the "conservative's" TV host.
Politico reported on March 22 that the "Right bemoans possible Jay Leno exit," and asks, "Could Jay Leno become a new conservative hero?"
Politico features a Tweet from Matt Drudge saying, "Left cheering Leno exit typical, he dared to entertain and offer jokes for the other 50% of country. Unacceptable in 'New America'…"
Read more
March 25, 2013 | Filed Under Catholicism, Christianity, Congress, Conservatives, GOP, Government, Religion, Rick Santorum, Senate, Warner Todd Huston | Comments Off
-By Warner Todd Huston
On March 15 the good folks of the National Bloggers Club hosted a private visit by Senator Rick Santorum at this year's Conservative Political Action Conference (CPAC).
The subject of most of his comments as well as the questions asked centered around the new Pope and the Catholic Church. One of his replies was particularly interesting and it wasn't just interesting because it was an answer to a question I asked the Senator myself.
I asked about how the media is and/or will treat the Catholic Church on the issue of "reform" as the new Pope takes charge of his world-wide flock. Santorum noted that the Church can't change its spots just because the culture does. The Church is supposed to be teaching truth, not bending constantly to cultural changes.
Santorum's reply:
Read more
March 18, 2013 | Filed Under Conservatives, CPAC, Donald Trump, Elections, GOP, Republicans, Warner Todd Huston | Comments Off
-By Warner Todd Huston
I was at the Conservative Political Action Conference (CPAC) in Maryland this year but I was not yet at the event on Thursday morning, so I missed The Donald's speech. I watched the video later because I heard a lot of people wondering what the heck this guy was talking about. And after seeing the video, I have to say this: can we finally be done with Donald Trump in GOP politics, now?
Trump started out his speech talking about how the country was in trouble. Not a big newsflash, that. He also noted that the GOP was in serious trouble. Another newsflash. But then came a slap in the face. Here he was at a conservative gathering and what was the third point he made?
"The Republican Party, I can almost want to say it's going to be a little bit tough and especially as you get more and more conservative. They get nasty. They don't like to hear what we have to say."
Um… what?
Who is "we" and is everyone in your audience is a closed-minded, nasty, creep, Mr. Trump?
Read more
March 17, 2013 | Filed Under Conservatives, CPAC, Republicans, Warner Todd Huston | 1 Comment
-By Warner Todd Huston
On Saturday after noon they announced the winners of the straw poll giving us an idea of who the attendees of the event would like to see run for president this far out of 2016. Interestingly, no "establishment" pols appeared anywhere on the list.

The Results Board
Here are the results:
KY Senator Rand Paul (25%)
FL Senator Marco Rubio (23%)
PA Senator Rick Santorum (8%)
NJ Gov. Chris Christie (7%)
WI Congresman Paul Ryan (6%)
WI Gov Scott Walker (5%)
Doctor Ben Carson (4%)
TX Senator Ted Cruz (4%)
LA Gov Bobby Jindal (3%)
AK Gov Sarah Palin (3%)
Others (14%)
Undecided (1%)
So, what does this mean? As one person noted, the libertarians took over CPAC.
Note that all those above were non-establishment people with Rand being the most un-establishment of them all. But Rubio was opposed in his primary by both the Florida and national establishment (they all supported Charlie Crist who ended up switching parties to a Dem. after he lost), Santorum is no establishment guy, neither is Carson or Cruz. Christie is as close to establishment as it gets and even he isn't totally "one of those" in many ways. I wouldn't call Ryan an establishment guy, either, as he's brought them to him–via his expertise on the budget–as opposed to him bending over backwards to join them as most do.
Read more
March 16, 2013 | Filed Under Conservatives, Freedom, Liberty, Warner Todd Huston | Comments Off
-By Warner Todd Huston
Governor Sarah Palin appeared this morning at CPAC 2013. This woman always, always draws a great and enthusiastic audience and this year was no exception.
Palin's speech was filled with lots of Palin bromides about freedom, liberty and conservative, small government. She had many laugh lines, as always. One was when hubby Todd bought her a gun rack for her 4X4 and she had to buy a rifle to go in it for him. "He got the rifle," Palin said, "and I got the rack."
But it was what she did right exactly afterward that brought the house down. Palin reached under the podium and brought out a Big Gulp and began sipping from it.
This was, of course, a direct slap at New York's "independent" mayor Michael Bloomberg.
The place simply erupted in applause.
Read more
March 14, 2013 | Filed Under Conservatives, CPAC, House of Representatives, Republicans, Warner Todd Huston, Washington D.C. | Comments Off
-By Warner Todd Huston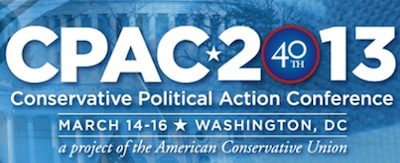 Once again I am attending the Conservative Political Action Conference here in Washington D.C.–well, not D.C. exactly but outside the city in National Harbor, Maryland, a 20 minute drive from downtown.
The morning started off with Virginia Attorney General Ken Cuccinelli, U.S. Representative Allen West, and Senator Pat Toomey and a few others.
CPAC's early group discussion on Thursday was all about cultural diversity with a panel titled "Respecting families and the rule of law: a lasting immigration policy." This panel addressed the thorny issue of the conservative position on the current problems over immigration, illegal or otherwise.
Read more
February 23, 2013 | Filed Under Americans For Prosperity, Congress, Conservatives, Democrats/Leftists, Elections, Ethics, GOP, Government, House of Representatives, Liberals, Progressives, Senate, Warner Todd Huston | Comments Off
-By Warner Todd Huston
Americans for Prosperity has launched a new project for Americans to track their congressmen. The new website is part of an interactive version of AFP's congressional key vote scorecard, which includes AFP key votes from the past three congresses.
Eighteen House members and one senator rated an A+ conservative rating while twenty-one reps. and one senator rated an F.
The new scorecard can be seen at afpscorecard.org. (A printable version can be seen HERE).
"The AFP Scorecard is an easy way for our activists, the media, and the general public to keep an eye on Washington. Now that the Scorecard is available on an interactive website it will be even easier to keep an eye on Congress," said AFP Director of Policy James Valvo.
Read more
February 22, 2013 | Filed Under Conservatives, Declaration of Independence, Ethics, Founders, George Washington, Society/Culture, Warner Todd Huston, Western Civilization | Comments Off
-By Warner Todd Huston
It is February 22nd, the birthday of our first President, George Washington.
I don't celebrate "President's Day." I celebrate the presidents individually, not the whole gaggle of them at once. But I most certainly don't celebrate George Washington, the father of our country, as just another president. These days, George Washington has been relegated to that "truth telling guy" to be seen on the one dollar bill and on TV commercials at the end of February or that guy lumped in with Lincoln on "President's Day." And that is a shame, indeed, for, without George Washington, our presidency and nation might have become a far different place.
What made Washington such a giant for our times as well as his? For one thing, he knew how to act in public.
Back in the 1700's
In the year 1759 a man named William Robertson wrote a book called The History of Emperor Charles V. It was a book that some claim was the standard after which modern historical study and writing has come to be patterned. Mr. Robertson, who became Principle of the University of Edinburgh in later years, introduced a salient point into the era of the Scottish Enlightenment. That idea was that "Politeness" in society would result in becoming a civilized nation. And it was a politeness perpetuated and spread through capitalism that was the best avenue to achieving that civilized level.
Read more
February 20, 2013 | Filed Under Conservatives, Glenn Beck, GOP, Media, Policy, Republicans, Warner Todd Huston | 1 Comment
-By Warner Todd Huston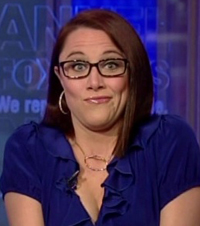 Youthful commentator S.E. Cupp of the lamentable MSNBC recently made some trouble for herself by an ill-considered slam on Rush Limbaugh. Then, she made it worse with a subsequent doubling down on her unhelpful and unnecessary attack.
For those unaware, S.E. Cupp is a young, conservative commentator that has been close to Glenn Beck–close as in his employee–and last year began a stint as the token conservative on an MSNBC show called The Cycle.
To catch you up on the controversy, Cupp was quoted in The New York Times saying that we should not be afraid to "call out Rush Limbaugh" when he does or says something she deems outrageous.
Unsurprisingly, Miss Cupp was cremated on Twitter for her slam on Rush. While much of the attacks she sustained on Twitter were over the top and unwarranted, the essential criticism of her position is correct.
Instead of taking the criticism, though, in a follow up column published on February 19 in the New York Daily News Miss Cupp doubled down on her position.
Read more
« Previous Page
—
Next Page »
Social Networking
Help the Soldiers!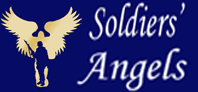 American Genius
Our Founding Ideas
---
"Governments are instituted among men,deriving their just powers from the consent of the governed." Declaration of Independence July 4, 1776
---
Recently Written
Featured Sites



What THEY Say:
Foreign News In English
Illini Alliance
Blogroll
Political Parties

Contact Us
Email Publius' Forum
Archives
Links
Other Blogs
MilBlogs
Religion

Gun Rights
Education
Radio Hosts