March 31, 2014 | Filed Under Anti-Americanism, Cook County, Courts, Crime, Democrats/Leftists, Ethics, Government Corruption, Illinois, Judges, Liberals, Mental Health, Progressives, Warner Todd Huston | Comments Off on
---
Suburban Chicago Judge Legally Declared Insane Wants Back on Bench

-By Warner Todd Huston
So, a Chicago suburb has a woman who was fortunate enough to become a Cook County judge even though she has severe mental problems… and by severe I mean besides being a black power-pushing, halfwitted Democrat. I mean she was actually diagnosed as a mental case and suspended from the bench because of it. But typical to Chicago, now this nutcase expects to get her job back. Because raaaaacism, I suppose.
The nutcase in question is one Cynthia Brim, 55, who was a traffic court judge at the Markham courthouse. In 2012 she went off her nut and began ranting from the bench. Ultimately she was diagnosed with a mental disorder, proscribed a drug regimen to keep her ranting to a minimum and then suspended from the bench.
She even had battery charges filed against her when she went crazy in the court room in 2012.
Read more
March 5, 2014 | Filed Under AFSCME, Anti-Americanism, Budget, Business, Chicago, Constitution, Crime, Democrats/Leftists, Economy/Finances, Ethics, Free Trade, Freedom, Government, Government Corruption, Health, Illinois, Jobs, Labor Law, Liberals, Liberty, Mental Health, Progressives, Public Employees Unions, Regulation, Rights, Taxes, Unions, Warner Todd Huston | Comments Off on
---
University Professor Urges Unions to Use Violence Against Mom of Disabled Teen

-By Warner Todd Huston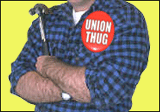 Several years ago a mother who cares for a disabled teen was shocked to discover that the Gov. of Illinois was going to force her into a union because she gets state aid to care for her son. She protested this forced unionization and the forced paying of dues that goes with it. Now a union professor is saying that unions should use violence against this woman to silence her.
Dr. Alan Singer, a Professor of Secondary Education at Hofstra University, urged unions to take "aggressive, illegal actions" saying it was "the only way" to stop people like Pam Harris from hurting the union cause of extorting business and government.
Mrs. Harris is the woman behind the Illinois lawsuit fighting state imposed unionism (Harris v. Quinn) that has made it to the U.S. Supreme Court of the United States.
Read more
June 15, 2013 | Filed Under Cable, Children, Conservatives, Democrats/Leftists, Entertainment, Ethics, Health, Liberals, Media Bias, Mental Health, Progressives, TV, Warner Todd Huston | Comments Off on
---
Sarah Palin Calls Bill Maher Out for Calling Son Trig a 'Retard'

-By Warner Todd Huston

Don't poke the Mamma Bear!
Sarah Palin is getting back on track as an outspoken commentator on the news and her first step back in the spotlight is to slam so-called comedian Bill Maher for calling her son, Trig, a "retard" in his "comedy" act.
Palin has recently re-signed as a Fox News commentator after having let her contract lapse in January of 2013, likely with an eye toward having a voice in the upcoming 2014 midterm election cycle.
But elections were far from her mind after she discovered that so-called comedian Bill Maher was going around calling her Down's Syndrome child a "retard."
Palin heard about Maher's calumny from a piece in the Daily Caller by Ron Furtell titled, "Why I Heckled Bill Maher."
Furtell had gone with friends to see Maher's stand up routine in Las Vegas last week and took issue with the "comedy" Maher was dishing out.
Furtell noted that he has a special needs son and when Maher started calling Palin's son, Trig, a "retard," the writer couldn't take it in silence. He heckled Maher and was dutifully ushered out the door by security.
After Furtell published his Daily Caller piece, Sarah Palin also had a thing or two to say about Maher's nonsense.
Palin took to Twitter, as she is wont to do, and slammed Maher twice.
Hey bully, on behalf of all kids whom you hatefully mock in order to make yourself feel big, I hope one flattens your lily white wimpy a#*.

— Sarah Palin (@SarahPalinUSA) June 13, 2013
I'm in your neck of the woods this weekend, little Bill. Care to meet so I can tell you how I really feel? http://t.co/YlNbYwsQDz

— Sarah Palin (@SarahPalinUSA) June 13, 2013
It is always interesting to note that these extremist liberals are always the first ones to chastise people for calling names until it is a conservative they want to attack. Then the name calling runs fast and thick.
That isn't the first ime he's attacked a special needs child. Here is another example of this creep's "work"…
Read more
January 27, 2013 | Filed Under 2nd Amendment, Barack Obama, Constitution, Crime, Democrats/Leftists, Ethics, Founders, Freedom, Gun Control, Guns, Health, Joe Biden, Liberals, Liberty, Mental Health, President, Progressives, Regulation, Warner Todd Huston | Comments Off on
---
VP Biden: Mental Health Checks Could Have Stopped Vir. Tech Shooting

-By Warner Todd Huston
After a discussion on gun control at an event in Richmond, Virginia, Vice President Joe Biden claimed that better mental health checks could have stopped the shooting on the Virginia Tech campus in 2007.
Biden said that he and those he consulted during the recent gun banning commission he chaired which was completed in mid January had reached a "pretty broad consensus" of policy recommendations that would include "mental capacity" to determine who would be allowed to purchase guns in the future.
"One of the problems that was pointed out here was that there was an adjudication of the young man that committed the crime at Virginia Tech, and yet he was able to go out and purchase two weapons," the Vice President said.
In 2007 Seung-Hui Cho, a student at the university, killed 32 at the Blacksburg, VA campus. Cho used two handguns that he had purchased legally. The killer, though, had a history of mental health issues that apparently didn't come up in his background checks when he purchased the weapons.
Read more
Social Networking
Help the Soldiers!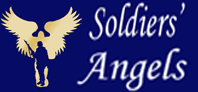 American Genius
Our Founding Ideas
---
"Governments are instituted among men,deriving their just powers from the consent of the governed." Declaration of Independence July 4, 1776
---
Recently Written
Featured Sites



What THEY Say:
Foreign News In English
Illini Alliance
Blogroll
Political Parties

Contact Us
Email Publius' Forum
Archives
Links
Other Blogs
MilBlogs
Religion

Gun Rights
Education
Radio Hosts