May 5, 2017 | Filed Under 2nd Amendment, Anti-Americanism, Congress, Conservatives, Constitution, Democrats/Leftists, Entertainment, Ethics, GOP, Government, Government Corruption, Hollywood, House of Representatives, Humor, Liberals, President, Progressives, Republicans, Satire, Senate, TV, Warner Todd Huston | Comments Off on
---
An Opened Letter from Actor Kiefer Sutherland: 'Dear Hollywood, This is My Apology'

-By Warner Todd Huston
Recently an envelope was found on the sticky floor of a coffee house in Toronto, Ontario, Canada, and when opened it was discovered that a letter from actor Kiefer Sutherland was tucked inside. The letter appears to be an apology from the actor to his pals in Hollywood and we have the exclusive contents only right here.
Sutherland is in Toronto filming his latest political thriller TV series for ABC entitled, "Designated Survivor."
The show features Sutherland as a lowly federal government cabinet member who is thrust into the presidency after the entire U.S. Capitol building is blown up during the president's address to a joint session of Congress. Being chosen to stay away from the capitol as the nation's designated survivor in case disaster strikes, Thomas Kirkman (Sutherland) suddenly finds his world forever changed.
The show follows Kirkman, a political novice and idealist, as he learns the ropes of being president on the job. The show also follows the investigation into those responsible for blowing up the capitol and killing 90% of Congress including the president and vice president, every cabinet member but Kirkman, the whole U.S. Supreme Court, and most of the nation's Senators and Representatives.
Read more
May 4, 2015 | Filed Under 1st Amendment, Anti-Americanism, Barack Obama, Christianity, Civil Rights, Constitution, Crime, Democrats/Leftists, Ethics, Free Speech, Freedom, Gay Marriage, Gays, Government, Government Corruption, Hate Crimes, Humor, ISIS, Islam, Islamofascism, Jews, Journalism, Koran, Liberals, Media, Media Bias, PCism, President, Progressives, Race, Racism, Religion, Satire, Security/Safety, Sex Offenders/Rape, Sharia, Society/Culture, Terrorism, Warner Todd Huston, Western Civilization | Comments Off on
---
It's Time So Much of This 'Free Speech' is Shut Down for Inciting Violence

-By Warner Todd Huston
The First Amendment of the United States is one of the keystone principles in our founding, certainly. And it is about time that as a nation we put an end to its abuse. Not only does this key amendment give us free speech but it also assures freedom of the press, so it's time for government to step in and stop people from abusing it.
Over the last two days we've seen such abuses of the First Amendment that should infuriate every true American. We have seen, for instance, a group in Texas holding an event that was meant as a means to incite Muslims to kill people. The Federal government should have stepped in to prevent this event.
After all, what happened when they held an event soliciting graven images of the Prophet Mohammad, peace be upon him? That's right, good and true Muslims came out to kill the infidel, just as they are instructed to do by the Quran.
The simple fact is that these Muslims would not have taken up arms if not for this event.
The guardian of a free press and the First Amendment, Rukmini Callimachi of The New York Times, had it right when she Tweeted, "Free speech aside, why would anyone do something as provocative as hosting a 'Muhammad drawing contest'?"
Callimachi is exactly right. Free speech must be put aside if it attacks the Prophet.
Read more
Social Networking
Help the Soldiers!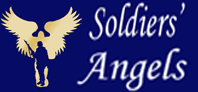 American Genius
Our Founding Ideas
---
"Governments are instituted among men,deriving their just powers from the consent of the governed." Declaration of Independence July 4, 1776
---
Recently Written
Featured Sites



What THEY Say:
Foreign News In English
Illini Alliance
Blogroll
Political Parties

Contact Us
Email Publius' Forum
Archives
Links
Other Blogs
MilBlogs
Religion

Gun Rights
Education
Radio Hosts