January 7, 2014 | Filed Under Barack Obama, Budget, Business, Congress, Conservatives, Democrats/Leftists, Economy/Finances, Ethics, GOP, Government, Government Corruption, Health, Insurance, Liberals, Medicaid, Obamacare, Policy, President, Progressives, Rand Paul, Republicans, Senate, Taxes, Warner Todd Huston | Comments Off on
---
Obamacare Disaster Continues: Sen. Rand Paul's Son Ends Up on Medicaid

-By Warner Todd Huston
The disaster that is Obamacare rolls ever onward. This time we have U.S. Senator Rand Paul who has been trying to get his own family signed up for Obamacare only to find that the state of Kentucky automatically assigned Paul's own son to Medicaid even though the Senator was trying to arrange for an insurance policy he intends to pay for himself.
Senator Paul is no indigent character, here, and he has plenty of money to pay for healthcare insurance for his family. But as he attempted to sign up for insurance through his state-based Obamacare exchange, the state automatically signed his son up for Medicaid, the health service that is supposed to be reserved for the poor.
As Paul notes in the video clip above, the state of Kentucky is supposed to have one of the best services in the nation–a low bar, there–but if the state is shunting people who can pay for their insurance into Medicaid, that is another failure of the system that should not be happening.
Read more
January 4, 2014 | Filed Under 4th Amendment, Anti-Americanism, Barack Obama, Congress, Constitution, Crime, Democrats/Leftists, DOJ, Ethics, FBI, Federalism, Freedom, GOP, Government, Government Corruption, Law, Liberals, Liberty, Nanny State, NSA, Police State, Policy, President, Rand Paul, Security/Safety, Warner Todd Huston | Comments Off on
---
Rand Paul to Sue Obama Over NSA Spying

-By Warner Todd Huston
Tea Party favorite and libertarian-minded Senator Rand Paul (R, KY) is suing Barack Obama over his misuse of the National Security Agency (NSA).
Senator Paul has announced that he is joining a class action lawsuit being filed against Obama's NSA. He also noted that he is joining the lawsuit as an average citizen, not as a US Senator.
Read more
March 15, 2013 | Filed Under Bill of Rights, Budget, Constitution, CPAC, Economy/Finances, Ethics, Foreign Countries, GOP, Government, Kentucky, Rand Paul, Republicans, Senate, Taxes, Warner Todd Huston | Comments Off on
---
CPAC–Rand Paul: Not a Penny to Countries That Burn U.S. Flag

-By Warner Todd Huston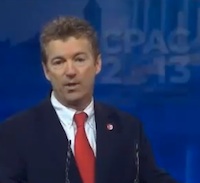 Kentucky Senator Rand Paul didn't disappoint on yesterday's appearance at CPAC at one point in his speech saying of foreign aide, "I say not one penny more to countries that are burning our flag."
When he kicked off his address he joked that he'd only been given 20 minutes to speak but had brought 13 hours of material. He went on to joke that because of his filibuster Obama might ant to "drone" him.
This set Paul up to discuss theObama's drone program, the National Defense Authorization Act, and how it is borderline unlawful to use drones on American soil without the due process of law.
Read more
March 9, 2013 | Filed Under al Qaeda, Anti-Americanism, California, Congress, Constitution, Ethics, Islamofascism, Liberals, Military, Rand Paul, Republicans, Terrorism, Warner Todd Huston | Comments Off on
---
VIDEO: Anthony Gregory on Rand Paul's Senate Filibuster

An interesting run down of what Rand Paul's filibuster brought Washington D.C. posted by Anthony Gregory of California's Independent Institute.

"This is what's awesome about Rand Paul's filibuster… This was over something important for a change…"

March 7, 2013 | Filed Under Anti-Americanism, Commerce Clause, Congress, Constitution, Crime, Elections, Ethics, GOP, Government, Rand Paul, Regulation, Republicans, Senate, Warner Todd Huston | 2 Comments

-By Warner Todd Huston
Rand Paul excited conservatives, libertarians, and even some liberals with his filibuster performance on the floor of the Senate on Wednesday. It was some 13 hours of a discussion on Obama's desire to use drones to kill Americans here at home. Unfortunately, there were seven Republicans Senators that decided it was a better idea to eat dinner with the odious Obama instead of assisting Rand Paul. Worse, two Republicans actually denounced Paul's efforts. All these Senators need to be gotten rid of.
Rand Paul used the debate about the nomination of John Brennan as his "in" to begin his filibuster. Obama offered the nomination of Brennan as his next CIA chief and Paul used his turn to speak about Brennan as a launching pad to force Obama and the CIA to agree not to kill Americans with domestic drone strikes without trail, warrant, or arrest.
The excitement from rank and file GOPers hungry for some kind of victory was tremendous. Unfortunately, two foolish GOP Senators actually denounced Rand Paul for his successful and exciting effort.
The bobbsey twins, John McCain (Ariz) and his lapdog Lindsay Graham (So. Car.) actually attacked Paul for his filibuster. John McLame, for instance, called Paul "ridiculous."
Read more
March 7, 2013 | Filed Under Barack Obama, Bill of Rights, Civil Rights, CNN, Constitution, Courts, Crime, Democrats/Leftists, Ethics, Freedom, Journalism, Kentucky, Liberals, Liberty, Media, Media Bias, Progressives, Rand Paul, Regulation, Warner Todd Huston | Comments Off on
---
CNN Mocks Rand Paul's Filibuster, No Wonder CNN is Losing Credibility

-By Warner Todd Huston
During a long stretch of the day in the U.S. Senate, Kentucky's junior Republican Senator, Rand Paul, led a filibuster to decry the Obama's administration's seeming disregard of due process, the rule of law, and American's civil rights. This, apparently, is funny to CNN. Makes one wonder why CNN imagines itself a news station!
Obama's administration has admitted that it sees nothing inherently wrong with using flying drones to kill Americans here in our own country. This is something that Senator Paul and millions of other Americans (on both sides of the aisle, by the way) think is wrong.
As Obama's nomination for a new CIA chief came to the floor, Senator Paul launched an old fashioned, talking filibuster to block the nomination in order to get his point across that killing Americans without due process, without proper warrants and trials is simply wrong.
This was something that CNN's Erin Burnett thought was worthy of mocking.
Here is what CNN's viewers were treated to during Burnett's show…
Read more
Social Networking
Help the Soldiers!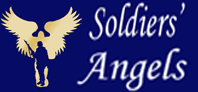 American Genius
Our Founding Ideas
---
"Governments are instituted among men,deriving their just powers from the consent of the governed." Declaration of Independence July 4, 1776
---
Recently Written
Featured Sites



What THEY Say:
Foreign News In English
Illini Alliance
Blogroll
Political Parties

Contact Us
Email Publius' Forum
Archives
Links
Other Blogs
MilBlogs
Religion

Gun Rights
Education
Radio Hosts