March 4, 2016 | Filed Under Budget, CPAC, Democrats/Leftists, Education, Ethics, GOP, Government Corruption, Liberals, Liberty, Ohio, Progressives, Public School, Republicans, Taxes, Warner Todd Huston | Comments Off on
---
John Kasich and His Big Government Education Disconnect

-By Warner Todd Huston
Ohio Governor John Kasich talked about education at the GOP debate in Detroit, but what he said essentially reveals the disconnect between apparent conservative rhetoric and a less conservative love of big government.
Talking about how the schools in Cleveland, one of the largest cities in his home state of Ohio, have been turning around lately due to new policies, the Governor tried to wrench that into federal policy.
Those local policies may be all well and good, but one sentence he unleashed that night revealed a dichotomy between conservative boilerplate and the usual, big government nonsense we see from establishment and Washington Republicans.
"And, frankly, look, if I were president," Kashich said, "I'd take 104 federal programs, bundle them into four buckets, and send it to the states, because fixing schools rests at the state and the local level, and particularly at the school board level."
Notice the disconnect? He began talking about those "buckets" of federal money he'd "send to the states" for education. And why would he send all those buckets loaded with tax dollars? Because "fixing schools rests at the state and the local level, and particularly at the school board level."
So, what is the disconnect?
Read more
March 4, 2016 | Filed Under CPAC, Warner Todd Huston | Comments Off on
---
CPAC 2016: Mark Levin, Milwaukee Sheriff David Clarke

-By Warner Todd Huston
Starting off CPAC we heard from Dana Loesch, Representative Louis Gohmert from Texas, National Security Analyst KT McFarland, and talk show giant Mark Levin.
I also got a few minutes to chat with Milwaukee Sheriff David Clarke.
More as the day wears on…
Read more
March 3, 2016 | Filed Under Conservatives, CPAC, Ethics, GOP, Talk Radio, Technology, Warner Todd Huston, YouTube | Comments Off on
---
CPAC 2016: Dennis Prager and Prager University

-By Warner Todd Huston
I have never written anything about Prager University and I have to say I've been remiss. So, with conservative talk show host Dennis Prager appearing at the Conservative Political Action Conference (CPAC2016) it is a good time to correct that slight.
Dennis has been around quite a few years and is one of Salem Radio's biggest stars, but he also founded a Youtube channel called Prager University where you can go to find some of the best arguments for conservatism ever put to video.
These great videos are concise, well reasoned, and short with great production values. But even more importantly, if you are looking for ways to argue against the left you can't find better intellectual ammunition that that at Prager U.
If you need help understanding conservative principles or just need help on how to formulate your argument when talking to your liberal friends, Prager University is your ticket to the best source for conservative information.
Here is one example…
March 3, 2016 | Filed Under CPAC, Technology, Twitter, Warner Todd Huston | Comments Off on
---
#FreeStacy A Few Words With Stacy McCain at CPAC 2016

-By Warner Todd Huston
Here at the Conservative Political Action Conference (CPAC 2016) I ran across an old friend whom I've known since 2001 when I first started doing all this political writing and activism full time. But, maybe I shouldn't be advertising this because Stacy McCain is one of the first conservatives to be banned from Twitter for Tweeting While Conservative (TWC).
At CPAC I spoke to Stacy who has been a long-time blogger and journalist at places such as the Washington Times and asked him just why he was banned from Twitter. And after all was said and done he just plain didn't have a clue why out of all the conservative Twittersphere HE was the first one banned.
And I ca't agree more. Sure he was straightforwardly conservative but there are far, far worse users of the social media platform on the right (and you know who you are). So, why Stacy?
McCain, who had over 90,000 followers when Twitter lowered the boom on his account, was never given an explanation from Twitter and he has no firm idea why he was canned except for the fact that he is a conservative.
So, why is it a Twitter crime to Tweet While Conservative? I'll bet YOU can guess.
In any case, if you want to tell Twitter about your disgust with its anti-free speech policies, tweet out the hashtag #FreeStacy and tell them.
Finally, I would be remiss not to say that Stacy has a great blog called The Other McCain that I am sure you'll love.
Read more
March 3, 2016 | Filed Under Conservatives, CPAC, Ethics, GOP, Government, Government Corruption, Liberals, Maryland, Progressives, Republicans, Scott Walker, Warner Todd Huston, Washington D.C., Wisconsin | Comments Off on
---
Scott Walker CPAC 2016: We Have Had Much Success in the States

-By Warner Todd Huston
Wisconsin Governor Scott Walker, the most anticipated entrant into the 2016 GOP primary, and it's first victim, was the opening speaker for Wednesday's Conservative Action Political Conference convention and reminded the audience that the Republican Party is stronger than ever in state houses across the nation.
Walker, who led a Republican revolution in the generally liberal state of Wisconsin, noted that we have more Republican governors than ever before and more GOP-led state legislatures than ever.
If national politics is a mess for the center right, the states are a hotbed of conservatism.
It should be remembered that Wisconsin was one of the nation's birthplaces of progressivism (California being another) and when Walker took the governorship there it was a shock to liberals in general and Democrat unionists in particular.
Walker was a prohibitive favorite of conservatives across the country and man eagerly awaited his entrant into the 2016 GOP primary election cycle, but his campaign flagged early, had internal trouble, and Walker himself couldn't seem to get his message to resonate. He was one of the first high profile candidates to end his race for the White House.
I am here at National Harbor, Maryland for CPAC 2016 and will be occasionally sharing updates about the event.
Read more
March 22, 2013 | Filed Under al Qaeda, Anti-Americanism, Anti-Semitism, CAIR, CPAC, Democrats/Leftists, Ethics, Hamas, Hezbollah, Islam, Islamofascism, Jews, Koran, Liberals, Muslim Brotherhood, PCism, Progressives, Religion, Sharia, Society/Culture, Taliban, Terrorism, Warner Todd Huston | Comments Off on
---
Pamela Geller's 'Uninvited' Panel Presentation an Attack on 'Stealth Jihad'

-By Warner Todd Huston
Famed anti-jihad activist Pamela Geller made a splash with her appearance at the special Breitbart breakout panel, "The Uninvited," at this year's Conservative Political Action Conference (CPAC).
In true Breitbart fashion, Breitbart News–itself a sponsor of the 2013 CPAC–held its own panel and stocked it with some of those voices that were systematically prevented from officially speaking at the conservative event. Seeking to engage with voices beyond those approved by both the Old Media and the GOP establishment, Breitbart News sponsored "The Uninvited," a panel featuring topics, experts, and personalities that were absent from CPAC this year.
Of the many outspoken guests, Pamela Geller has a record of raising the hackles of the liberal media and even some on the right that are squeamish of her topics and her command of the facts. Geller didn't disappoint, either, when it came for her time to speak out that Saturday afternoon.
"Truth is the new hate speech," Geller proclaimed. She went on to warn the audience of a "stealth jihad" that was being waged against free speech right here in America; a war meant to silence any dissent against sharia law and radical Islam. Geller was incensed noting that this stealth jihad is even being waged on behalf of radical Islam by the American right. She was sad to note that the right is too afraid to speak out for fear of being labeled Islamophobic.
All this, Geller hinted, is one of the reasons she had been barred from being part of the CPAC schedule. She went on to criticize CPAC for silencing this subject matter, something she called a crime.
Read more
March 18, 2013 | Filed Under Conservatives, CPAC, Donald Trump, Elections, GOP, Republicans, Warner Todd Huston | Comments Off on
---
CPAC 2013: OK, Can We Just Be Done With Donald Trump Now?

-By Warner Todd Huston
I was at the Conservative Political Action Conference (CPAC) in Maryland this year but I was not yet at the event on Thursday morning, so I missed The Donald's speech. I watched the video later because I heard a lot of people wondering what the heck this guy was talking about. And after seeing the video, I have to say this: can we finally be done with Donald Trump in GOP politics, now?
Trump started out his speech talking about how the country was in trouble. Not a big newsflash, that. He also noted that the GOP was in serious trouble. Another newsflash. But then came a slap in the face. Here he was at a conservative gathering and what was the third point he made?
"The Republican Party, I can almost want to say it's going to be a little bit tough and especially as you get more and more conservative. They get nasty. They don't like to hear what we have to say."
Um… what?
Who is "we" and is everyone in your audience is a closed-minded, nasty, creep, Mr. Trump?
Read more
March 17, 2013 | Filed Under Conservatives, CPAC, Republicans, Warner Todd Huston | 1 Comment
-By Warner Todd Huston
On Saturday after noon they announced the winners of the straw poll giving us an idea of who the attendees of the event would like to see run for president this far out of 2016. Interestingly, no "establishment" pols appeared anywhere on the list.

The Results Board
Here are the results:
KY Senator Rand Paul (25%)
FL Senator Marco Rubio (23%)
PA Senator Rick Santorum (8%)
NJ Gov. Chris Christie (7%)
WI Congresman Paul Ryan (6%)
WI Gov Scott Walker (5%)
Doctor Ben Carson (4%)
TX Senator Ted Cruz (4%)
LA Gov Bobby Jindal (3%)
AK Gov Sarah Palin (3%)
Others (14%)
Undecided (1%)
So, what does this mean? As one person noted, the libertarians took over CPAC.
Note that all those above were non-establishment people with Rand being the most un-establishment of them all. But Rubio was opposed in his primary by both the Florida and national establishment (they all supported Charlie Crist who ended up switching parties to a Dem. after he lost), Santorum is no establishment guy, neither is Carson or Cruz. Christie is as close to establishment as it gets and even he isn't totally "one of those" in many ways. I wouldn't call Ryan an establishment guy, either, as he's brought them to him–via his expertise on the budget–as opposed to him bending over backwards to join them as most do.
Read more
March 15, 2013 | Filed Under Budget, Constitution, CPAC, Ethics, GOP, Government, Jobs, Mitt Romney, President, Republicans, Taxes, Warner Todd Huston | 1 Comment
-By Warner Todd Huston
Apologizing for not winning the last election, a chastened and humbled Mitt Romney came before the crowd at CPAC here today vowing to be a "coworker" with conservatives to get the country back on the right track.
Romney entered the stage to loud applause, some of the loudest for the day. His appearance certainly seemed to find approval with this crowd.
His speech was very good. One wag noted that he may be the most inspiring loser ever.
The former GOP nominee for President spoke all in big terms today, not much getting down in the weeds of specific programs. He was stopped occasionally by respectful and sometimes enthusiastic applause. He ended to a standing ovation, as well.
One thing is sure, the crowds at CPAC are mainstream Republicans as opposed to strictly hard right conservatives. If this crowd were more hardcore a moderate like Mitt Romney would never have been received, nominee or no, as well as he has been here in the last three years.
Read more
March 15, 2013 | Filed Under Bill of Rights, Budget, Constitution, CPAC, Economy/Finances, Ethics, Foreign Countries, GOP, Government, Kentucky, Rand Paul, Republicans, Senate, Taxes, Warner Todd Huston | Comments Off on
---
CPAC–Rand Paul: Not a Penny to Countries That Burn U.S. Flag

-By Warner Todd Huston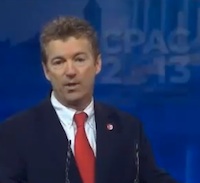 Kentucky Senator Rand Paul didn't disappoint on yesterday's appearance at CPAC at one point in his speech saying of foreign aide, "I say not one penny more to countries that are burning our flag."
When he kicked off his address he joked that he'd only been given 20 minutes to speak but had brought 13 hours of material. He went on to joke that because of his filibuster Obama might ant to "drone" him.
This set Paul up to discuss theObama's drone program, the National Defense Authorization Act, and how it is borderline unlawful to use drones on American soil without the due process of law.
Read more
March 14, 2013 | Filed Under Conservatives, CPAC, House of Representatives, Republicans, Warner Todd Huston, Washington D.C. | Comments Off on
---
CPAC 2013

-By Warner Todd Huston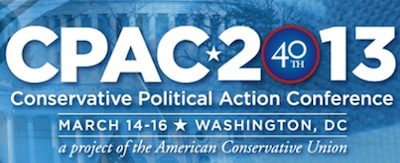 Once again I am attending the Conservative Political Action Conference here in Washington D.C.–well, not D.C. exactly but outside the city in National Harbor, Maryland, a 20 minute drive from downtown.
The morning started off with Virginia Attorney General Ken Cuccinelli, U.S. Representative Allen West, and Senator Pat Toomey and a few others.
CPAC's early group discussion on Thursday was all about cultural diversity with a panel titled "Respecting families and the rule of law: a lasting immigration policy." This panel addressed the thorny issue of the conservative position on the current problems over immigration, illegal or otherwise.
Read more
January 14, 2013 | Filed Under Conservatives, CPAC, Warner Todd Huston | Comments Off on
---
Paul Ryan to Keynote Conservative Political Action Conference in March

-By Warner Todd Huston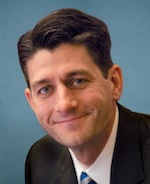 The Conservative Political Action Conference (CPAC) has announced that its keynote speaker will be Wisconsin Congressman and former GOP Vice Presidential nominee Paul Ryan.
"We are pleased to announce that Congressman Paul Ryan will be a featured speaker at CPAC 2013," said Al Cardenas, American Conservative Union Chairman and CPAC host. "From the day he was elected, Chairman Ryan has been a strong voice in Congress for pro-growth, free-market economic policies and has always been a CPAC favorite."
The three-day conference scheduled to begin March 14 has for forty years been one of the biggest conservative meetings in the country and has served as a major forum for Republicans and conservatives seeking the White House.
While Rep. Ryan has not announced any decisions to seek the GOP nomination for 2016, his CPAC appearance could serve as a first step toward a run for president.
By the way, everyone, I'll be at CPAC once again this year, so I'll be reporting about Ryan's speech.
Read more
Social Networking
Help the Soldiers!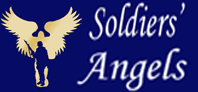 American Genius
Our Founding Ideas
---
"Governments are instituted among men,deriving their just powers from the consent of the governed." Declaration of Independence July 4, 1776
---
Recently Written
Featured Sites



What THEY Say:
Foreign News In English
Illini Alliance
Blogroll
Political Parties

Contact Us
Email Publius' Forum
Archives
Links
Other Blogs
MilBlogs
Religion

Gun Rights
Education
Radio Hosts